JPMorgan Revenue Falls on Trading, Profit Misses Estimates
by
Dimon: Still focused on costs amid `challenging' environment

Bank has cut workforce by 10,000 jobs this year, CFO Lake Says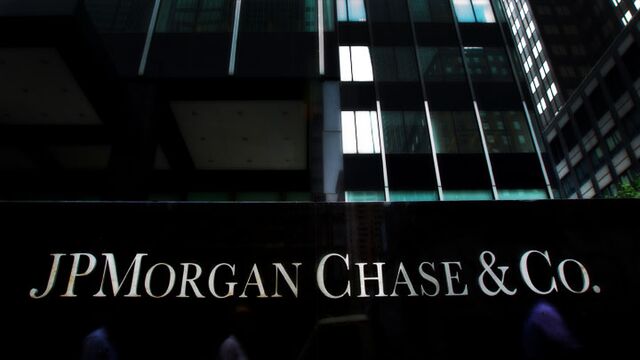 JPMorgan Chase & Co., the biggest U.S. bank, said revenue fell 6.4 percent in the third quarter, driven by a slump in trading and mortgage-banking results. Shares slipped in late New York trading.
While net income rose 22 percent to $6.8 billion, the New York-based firm said Tuesday in a statement, adjusted earnings per share, excluding a tax benefit and other items, were $1.32. That missed the $1.38 average estimate of 29 analysts surveyed by Bloomberg.
The results at JPMorgan, the first of the big U.S. lenders to report, show pressure is still high at Wall Street firms to cut expenses as volatile markets and the continuation of record-low U.S. interest rates erode profit. Though the bank shrank noninterest costs 2.7 percent to $15.4 billion, that still wasn't enough keep up with the drop in revenue.
"We saw the impact of a challenging global environment and continued low rates reflected in the wholesale businesses' results," Chief Executive Officer Jamie Dimon, 59, said in the statement. "We continue to focus on our commitments, optimize our balance sheet and manage our expenses."
JPMorgan shares fell 1.5 percent to $60.60 as of 5:27 p.m. in extended trading in New York.
Cutting Jobs
Firmwide net revenue was $23.5 billion in the third quarter, down from $25.1 billion a year earlier. The bank has cut its workforce by about 10,000 jobs so far this year, Chief Financial Officer Marianne Lake told analysts on a conference call, without indicating whether more may follow.
"Expenses had to come down, especially with trading revenue being lower," Pri de Silva, a senior banking analyst at CreditSights Inc. in New York, said in an interview before results were released.
Earnings at the corporate and investment bank, run by Daniel Pinto, dropped 13 percent to $1.46 billion, as revenue fell 10 percent from a year earlier to $8.17 billion. Fixed-income trading revenue tumbled 23 percent to $2.93 billion on lower commodities and credit activity, but the decline would have been 11 percent excluding the impact of business sales last year. Equity trading revenue rose 9 percent to $1.4 billion. Investment banking revenue rose 5 percent to $1.5 billion on higher advisory and debt underwriting fees.
"It was tougher to make money, in particular in credit and commodities, where clients were much less active," Lake said. And the slump is continuing, she added on conference calls with analysts and journalists: In the first two weeks of October, "markets are generally still reasonably quiet," and given the continued lack of client activity, analysts' estimates for trading revenue in the fourth quarter "appear high."
Net income from consumer and community banking, run by Gordon Smith, rose 4 percent to $2.63 billion. Still, revenue from mortgage fees and related income slumped 48 percent to $469 million.
Bank stocks during the period had their worst performance since 2011 as expectations for when the Federal Reserve will raise its benchmark rate shifted to next year, which would leave the industry's margins under pressure even longer. The Fed left rates unchanged in September on concern China's slowing growth would drag down other economies. The 24-company KBW Bank Index tumbled 9.5 percent in the third quarter, worse than the 6.9 percent drop for the broader S&P 500 Index.
Swaps Settlement


JPMorgan agreed to pay almost a third of a $1.86 billion settlement to end accusations that a dozen big banks conspired to limit competition in the credit-default swaps market, people with knowledge of the deal said this month. The accord averts a trial following years of litigation by investors including hedge funds, pensions, university endowments and small lenders who alleged that global banks conspired to control information about the multitrillion-dollar swap market in violation of antitrust laws.
In July, regulators said JPMorgan will pay $166 million and change credit-card collection practices after finding that the bank pursued the wrong borrowers, sought incorrect amounts or debts that were too old, or relied on documents with improper signatures.
Bank of America Corp., the second-biggest U.S. bank by assets, and Wells Fargo & Co., the top U.S. mortgage lender, are scheduled to report results Wednesday. No. 3 Citigroup Inc. is scheduled to release results Thursday.
Before it's here, it's on the Bloomberg Terminal.
LEARN MORE