It's Been a Rough Start for the Next Big Thing in File Sharing
Three days after it launched, Aurous is facing a lawsuit from the music industry and tepid reviews from file sharers.
by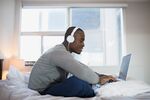 Over the past month, a service called Aurous has been making many people in the music business very nervous by promising to make it easy for anyone to access music for free. The idea is to build a friendly interface that pulls in music from many sources, inspiring comparisons to Popcorn Time and Grooveshark, which have been linked to widespread copyright infringement. But Aurous's road to becoming the next big thing in file sharing is looking rocky. 
The service launched over the weekend in what it's describing as an early testing period. On Tuesday, the Recording Industry Association of America sued it, asking a federal judge to shut down the service and fine it $150,000 for every instance of copyright infringement it facilitated. This couldn't have come as much of a surprise to Andrew Sampson, Aurous's founder. In an interview with Billboard, he gave a defense that will be familiar to anyone who has followed the battle between content companies and file sharers. 
"When you step into a minefield, you can expect to get a little hurt," he said. "But we're not hosting anything, we're decentralized, similar to BitTorrent, so we can share data without hosting it. Nothing goes through our servers." 
According to Sampson, Aurous is just a music player that will allow people to pull music from various services like Spotify, SoundCloud, and YouTube. But the main sources of content are Russian websites Pleer and VK, hardly household names to music fans but sites the RIAA says regularly infringe copyright. "Defendants have designed their service specifically to search for and retrieve these copies from a carefully chosen set of online sources notorious for offering pirated music, and Defendants are openly encouraging and assisting infringement of Plaintiffs' sound recordings," said the RIAA in its suit. 
Aurous was defiant in a reply to the lawsuit on its Twitter account:
The RIAA claims that Aurous is gaining an unfair advantage over sites like Spotify and Apple Music that license their music and either charge users or support themselves through advertising. But it's not clear that's actually true. The file-sharing blog TorrentFreak reviewed Aurous and a similar app called TorrentTunes on Monday. "Aurous and TorrentTunes may look nice and work well, but these 'pirate' apps lose out to legal services such as Spotify when it comes to content. They even have a hard time beating YouTube," wrote TorrentFreak's editor.
The outcome of lawsuits involving decentralized technology often boils down to the intention of the services themselves. If some users of a general-use service are doing things like committing copyright infringement, the platforms themselves are less likely to be found liable than if they have seemingly been built specifically to enable some illegal activity.  Aurous's initial decision to incorporate Pleer rather than, say, Pandora could hurt it in court, says Mitch Stoltz, an attorney at the Electronic Frontier Foundation. 
But Stoltz says he is concerned about language in the lawsuit that asks a judge to require other websites, domain name registrars and others from "facilitating access" to sites related to Aurous. This injunction, if granted, could make search engines block Aurous from their results immediately. "This is part of a coordinated strategy by the record labels, the music industry, and the major entertainment conglomerates to gain power to make websites disappear on their say-so, before trial I might add," he says. 
 It's a major power move against a service that, for now anyway, is a bit player. Even without the lawsuit, it's not clear that Aurous is destined to become more than that. If the mainstream services offer a better experience, why bother with a potentially illegal alternative? Services such as Spotify have regularly said they're the answer to piracy. In this case, at least, it seems like they might be right. 
Updates previous version of this story to add comment from Electronic Frontier Foundation
Before it's here, it's on the Bloomberg Terminal.
LEARN MORE