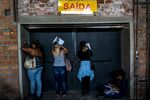 The World Bank has an unsettling message for young people around the globe: Whether you're male or female, live in Tunisia or the U.S., you will struggle to find a job.
Across regions and continents, people 15 to 29 years old are at least twice as likely as adults to be unemployed. The world will have to create 600 million jobs over the next 10 years, or 5 million a month, just to prevent the situation from getting worse, the Washington-based lender said in a report it released Tuesday with coalition partners such as the International Labor Organization.

The youngest workers have been hit hardest by the financial crisis and the global recession of the last decade because they often held the temporary jobs, which offer less protection. The youth unemployment rate is projected to be 13.1 percent in 2015, compared with 4.5 percent for adults, according to the ILO.
Global employers are looking not only for technical and academic skills, but also such qualities as being open, responsible or organized, according to the 155-page analysis titled "Toward Solutions for Youth Employment." Young workers are often either overqualified or underqualified for their jobs, it said.
"In emerging economies that are progressively more service-based, employers find a workforce population that lacks necessary skills," the report said. "Elsewhere, the problem is that many of the unemployed are highly educated but the market demands different competencies or more technical or vocational skills."
At stake is the well-being of the entire global economy. Without an income, millions of young people slump into poverty. By delaying their entry into the workforce or accepting low-paying jobs, many limit their lifetime earning potential. When young people don't work, governments don't get the tax revenue and businesses fail to gain customers.
"Social costs are ever mounting as well," the report said, citing youth-led uprisings in many Arab countries and the rise of economic insurgency and youth extremism. "What we see is a generation in economic crisis."
The report was released by a coalition called Solutions for Youth Employment, also includes the International Youth Foundation, children-development organization Plan International, public-policy researcher RAND Corp. and Youth Business International, a network helping young people start their own companies.
Before it's here, it's on the Bloomberg Terminal.
LEARN MORE