IEA Expects Iraqi Oil Output to Remain `Broadly Flat' Next Year
by
Crude-price drop, cost of fighting militants stymie investment

Iran volumes may return to 3.6 million barrels a day, IEA says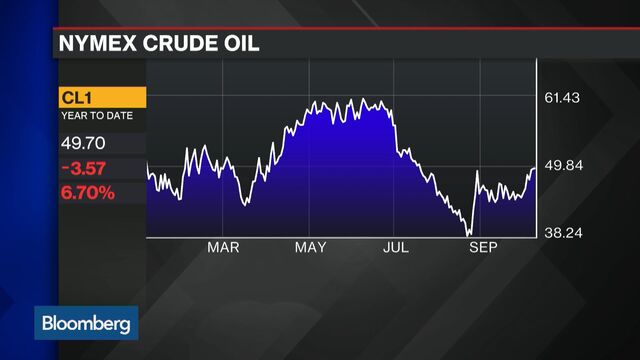 Oil production from Iraq, the world's fastest source of supply growth last quarter, will remain similar to current levels next year as the slump in crude prices and the cost of fighting Islamic State militants hamper the government's ability to invest in new capacity, the International Energy Agency said.
Volumes are expected to stay at about 4.2 million barrels a day, matching third-quarter output, the IEA said in its monthly report. While the country has "performed better than many had anticipated," there are signs of strain, the agency said.
Iraq, the biggest producer in the Organization of Petroleum Exporting Countries after Saudi Arabia, pumped a record 4.4 million barrels a day in June, according to data compiled by Bloomberg. Output last quarter rose by a third from a year earlier, the world's fastest supply growth, according to the IEA.
"Oil's collapse and Iraq's severe financial crisis have forced the government to curb spending, hence output next year is likely to remain broadly flat versus third-quarter 2015 levels," the agency said.
In neighboring Iran, OPEC's fifth-biggest producer, output capacity may return to as much as 3.6 million barrels a day within six months of sanctions being lifted, the IEA said. The Persian Gulf nation was OPEC's second-largest producer until the sanctions were imposed in 2012, and has vowed to regain market share once the restrictions end. Iran pumped 2.8 million barrels a day last month, down more than 20 percent from four years ago.
Before it's here, it's on the Bloomberg Terminal.
LEARN MORE