Ex-Anglo Irish Bank Chief Charged With Forgery, Conspiracy
by and
Dublin court seeks David Drumm's extradition on 33 charges

Former banker brought before Boston federal judge in leg irons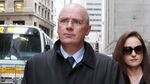 Six years after moving to the U.S. following the collapse of Anglo Irish Bank Corp., its former chief executive officer may be forced back to Ireland to respond to charges including conspiracy to defraud and forgery.
David Drumm, who was arrested Saturday by the U.S. Marshals Service on an Irish extradition warrant, was ordered held in custody by U.S. Magistrate Judge Donald Cabell in Boston until a bail hearing on Oct. 16. Assistant U.S. Attorney Amy Harman Burkart said the government will oppose bail.
The failure of Anglo Irish was seen as a catalyst to the collapse of the Irish banking system. The Irish government took over Anglo Irish in 2009 after bad loans soared following the worst real estate crash in Western Europe. The cost of saving the country's banks forced the government to seek a rescue from the International Monetary Fund and European Union, and despite a 29.3 billion-euro ($33.4 billion) bailout, Anglo Irish was put in liquidation in 2013.
Drumm was charged with 33 criminal offenses, which were listed in a court document that was made public in Boston Tuesday, each carrying a maximum sentence from 5 years in prison to indefinite imprisonment.
Drumm appeared in court in leg irons and handcuffs, while his wife, Lorraine, sat in the gallery. His attorney, Tracy Miner, told Cabell that she would need three to four months to prepare for an extradition proceeding, including trying to determine whether the arrest was politically motivated.
Miner said she'll try to get him released on bail. She said it was "outrageous" Drumm was arrested and held over the three-day Columbus Day weekend.
Burkart said she'll oppose bail because there's a risk Drum will flee and there are "special circumstances" warranting his detention.
Irish police and corporate enforcers in February 2009 began a criminal investigation into activities at Anglo Irish before it was nationalized. Drumm was CEO from 2005 to 2008.
Drumm, who now lives in Massachusetts, resigned from the bank after revelations that Chairman Sean Fitzpatrick had quit for failing to fully disclose tens of millions of euros in loans from the bank.
Assets Soar
Anglo Irish assets soared more than 18-fold to 101.3 billion euros in the decade through 2008 as it bankrolled some of the country's largest real-estate developers.
Ireland alleges that Drumm was involved in the bank's providing illegal financial assistance from 2007 to 2008 to businessman Sean Quinn to shore up a leveraged bet in Anglo Irish, though derivatives called contracts for difference, or CFDs.
The authorities say he was involved in having Anglo Irish provide loans to Quinn in 2008 to convert some of the CFDs into a 15 percent equity stake in the bank as well as in providing funds to 10 individuals to buy a further 10 percent stake, underpinning the CFD position.
The former executive also faces charges of false accounting over transactions in 2008 with Irish Life and Permanent Plc that prosecutors allege were intended to make the bank's financial position look stronger.
The bank moved as much as 7.2 billion euros to the fellow financial firm, which circled the money back to Anglo Irish, according to court papers. Anglo Irish accounted for the funds as corporate deposits on its balance sheet, according to prosecutors.
Drumm filed for bankruptcy in Massachusetts in 2010. A U.S. judge ruled in January that he couldn't escape debts of more than $11 million, after the judge found the former banker to be "not remotely credible" and that he lied about his financial affairs.
Extradition from the U.S. to Ireland follows processes similar to the procedure for bringing defendants arrested abroad to face charges in the U.S., said Lawrence Schoenbach, a lawyer not affiliated with the case who frequently handles extradition proceedings. The process could take a year or longer, especially if there is an appeal, he said.
The case is In the Matter of the Extradition of David Kenneth Drumm, 15-mj-1104, U.S. District Court, District of Massachusetts.
Before it's here, it's on the Bloomberg Terminal.
LEARN MORE