Commodity Export Deluge Takes Gloss Off China's Buying Spree
by
China's exports of steel, oil products and aluminum climb

While overall imports slide, commodity purchases are rising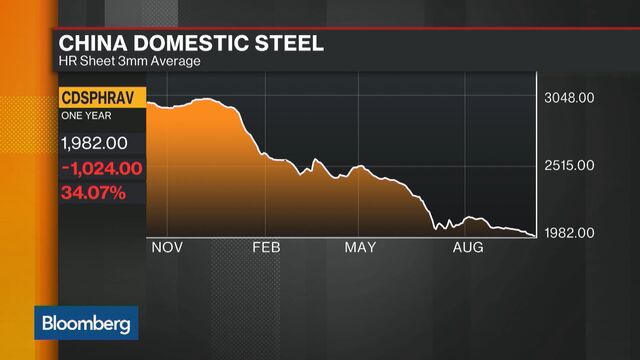 China's resurgent commodity imports are a boon for producers around the world. The flood of exports is less so.
While total imports shrank in yuan terms, the world's biggest consumer of energy, metals and grains bought more iron ore, crude oil and copper in September amid sliding prices, customs data showed Tuesday. The challenge for the world's commodities markets is that was accompanied by record exports of steel, the most shipments of oil products since 2009 and higher aluminum sales, even as total overseas sales slid.
The latest batch of trade data shows how China is making the most of the collapse in commodity prices to keep its metals plants and oil refineries running amid slowing domestic demand. The flood of cheap exports are threatening mills from India to Pennsylvania, aggravating trade disputes and worsening a glut of diesel extending from Singapore to Europe.

"The increase in imports doesn't seem to be for domestic consumption, they're translated into higher exports," Wu Zhili, an analyst at Shenhua Futures Co. in Shenzhen, China said by phone. "If you look at the year-to-date figures, exports as a whole are rising a lot faster than imports. This shows that China's demand is declining."
Lured by cheap supplies from the world's biggest producers, China's iron ore imports increased to the highest level this year to near a record in September. Ore prices have fallen 21 percent in 2015 as Rio Tinto Group, BHP Billiton Ltd. and Vale SA boost output.
Steel shipments from China meanwhile climbed 16 percent to a record 11.25 million metric tons, the customs data showed. Since the start of the year, they expanded 27 percent. The South East Asia Iron & Steel Institute estimates the country has about 300 million tons of excess steel making capacity.
"They're forced to export," Roberto Cola, chairman of the association, said by phone from Manila on Monday. There's "a lot of protest from a lot of other countries," he said.
China has overtaken the U.S. at least twice this year as the world's biggest crude importer. Purchases jumped 8.8 percent in the first nine months and about 5 percent in September. While the country has taken advantage of sliding oil prices to fill up its strategic stockpiles, it's also re-exporting more in the form of refined oil products.

Exports of refined oil products leaped 14 percent in August to the highest level since 2009 and by 27 percent in the first nine months of the year. China's refining industry is also beset by overcapacity. The country's biggest plants were operating at about 77 percent of capacity as of Oct. 8, according to Oilchem.net, a Shandong-based industry researcher.
"China may have taken advantage of the decline in crude oil prices" to boost September imports, Jean Zou, an analyst at ICIS China, a Shanghai-based commodity researcher, said by phone from Guangzhou.
The nation's total imports plunged 17.7 percent in yuan terms in September from a year earlier, widening from a 14.3 percent decrease in August and posting an 11th straight decline. Exports fell 1.1 percent in September in yuan terms compared with a 6.1 percent drop in August.
Before it's here, it's on the Bloomberg Terminal.
LEARN MORE