China's Yuan Declines as Imports Contract More Than Estimated
Bloomberg News
Exports drop as well, complicating efforts to prop up yuan

There's a risk that PBOC may limit currency gains, says DBS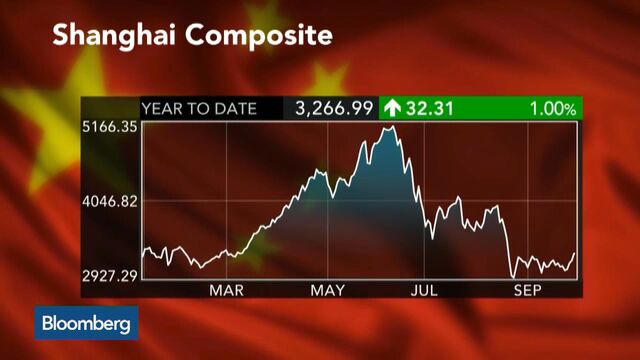 China's yuan shrugged off a stronger central bank fixing to drop the most in nine weeks as data showing an 11th monthly decline in imports spurred concern about growth in the world's second-largest economy.
Inbound shipments contracted the most since May and exports fell for the third straight month, complicating Premier Li Keqiang's efforts to prop up the yuan before the International Monetary Fund reviews China's efforts to obtain global reserve status for its currency. The central bank devalued the yuan on Aug. 11 partly to help exporters, and spent much of the next two months selling dollars to battle depreciation pressures.
The yuan weakened 0.31 percent, the most since Aug. 12, to close at 6.3429 a dollar in Shanghai, according to China Foreign Exchange Trade System prices. It broke an eight-day, 1 percent strengthening run. In Hong Kong's offshore market, the currency lost 0.39 percent to 6.3417 as of 4:46 p.m. local time, data compiled by Bloomberg show. The People's Bank of China raised the onshore fixing by 0.28 percent, the most since November 2014, to 6.3231.
"Further yuan gains from here would almost be like wiping out the devaluation effect," said Tommy Ong, managing director for treasury and markets at DBS Hong Kong Ltd. "There's a risk that the PBOC could intervene again to clamp down on any fast appreciation, instead of propping it up."
IMF Push
China's economy doesn't merit persistent declines in the yuan, and it will become more balanced and sustainable as wide-ranging structural reforms are being carried out, PBOC Deputy Governor Yi Gang said at an IMF meeting in Peru on Friday. The nation is planning steps to push the yuan's case for reserve status, such as opening the domestic bond and currency markets to foreign central banks and issuing three-month Treasury bills weekly to establish "representative" yuan interest and exchange rates, he said.
The PBOC said over the weekend that it would expand a trial program that allows lenders to borrow from the monetary authority using credit assets as collateral to nine cities including Shanghai and Beijing. The impact of the move is similar to a targeted reserve-requirement ratio cut, and the central bank will reduce interest rates and the amount of cash lenders need to set aside as reserves by year-end, analysts at Goldman Sachs Group Inc. led by Song Yu wrote in a report.
China's imports contracted 17.7 percent in yuan terms in September, after a 14.3 percent decrease originally reported in August. Overseas shipments fell 1.1 percent, the customs administration said Tuesday, compared with a 6.1 percent decline in August. The trade surplus was 376.2 billion yuan ($59.4 billion).
"The imports data show that domestic demand is still quite weak," said Liu Dongliang, a senior analyst at China Merchants Bank Co. in Shenzhen. "You definitely can't conclude that the economy is stabilizing."
— With assistance by Justina Lee, and Tian Chen
Before it's here, it's on the Bloomberg Terminal.
LEARN MORE