Photographer: Xaume Olleros/Bloomberg
Charting the Markets: Nine-Day Rally Undone by China
China data drags down the Aussie, crude oil rebounds from 5 percent slump and SABMiller shares jump nine percent after AB InBev deal
by
Double figures is looking out of reach, for now.
After nine days of gains, global stocks are falling as data from China highlights the fragility of domestic demand. Imports sank 20.4 percent in dollar terms in September, falling for an eleventh straight month, extending the longest losing streak in six years. The 3.7 percent drop in exports in dollar terms was smaller than expected and may indicate the devaluation of the yuan is helping local businesses compete overseas. China's benchmark Shanghai Composite Index eked out a gain of 0.17 percent, the fourth day of increases following the Golden Week holiday. European stocks dropped for a second day.

The Australian dollar's nine-day winning streak, the longest in six years, has come to a halt after weaker than forecast China import data. China is Australia and New Zealand's major trading partner. New Zealand's dollar also fell for the first day in eight. Ahead of today, the two currencies were the second- and third-best performers against the U.S. dollar in September out of its 16 major peers. On Monday, a gauge of momentum suggested the Aussie's rally was overdone. Its 14-day relative strength index climbed to 71. Any figure above 70 indicates an asset is overbought. The Australian dollar hasn't been above that level since April 2014.
Oil bounced back from its biggest drop in six weeks after China's crude purchases rebounded in September from a three-month low. Crude sank 5 percent on Monday after OPEC raised its production to the highest level since 2012. Nevertheless OPEC's Secretary-General Abdalla Salem El-Badri expects to see a balanced market next year as demand grows and non-OPEC nations produce less oil. Crude hasn't closed above $50 a barrel since July 21, despite temporarily crossing the threshold in each of the last three trading days.

If at first you don't succeed. After four rejections AB InBev agreed to buy SABMiller for almost £69 Billion in the biggest ever U.K. takeover, combining Budweiser with brands like Peroni and Grolsch. The £44 a share offer is 50 percent above SABMiller's closing price on Sept.14, the day before speculation of a deal surfaced. It's the biggest ever deal in the brewing industry. Exane BNP Paribas estimates the combined group will be the world's largest consumer-staples company and have number one or two positions in 24 of the world's 30 biggest beer markets.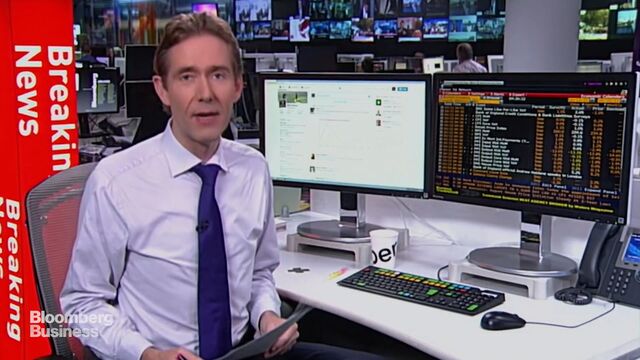 Mark Barton is a presenter on Bloomberg TV. Follow him on Twitter @markbartontv
Before it's here, it's on the Bloomberg Terminal.
LEARN MORE