Broker Told Prosecutors He Couldn't Ignore 'Psychotic' Hayes
By
Prosecutors summarize broker interviews for jury Tuesday

One broker told SFO he didn't know what Libor stood for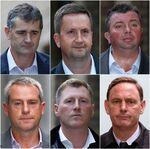 Six brokers accused of helping former UBS Group AG trader Tom Hayes rig benchmark rates used a range of excuses during questioning by prosecutors, including blaming colleagues and not knowing what Libor meant.
The responses were summarized for jurors by prosecutors for the U.K. Serious Fraud Office on the sixth day of a criminal trial in London. One former Tullett Prebon Plc trader, Noel Cryan, said that he watched Hayes change from a shy, awkward rookie to an abusive trader with a "god syndrome."
The men, who worked for ICAP Plc, RP Martin Holdings Ltd. and Tullett, are charged with participating in a conspiracy to rig the London interbank offered rate, the benchmark used to value more than $350 trillion of loans and securities. Hayes, who worked at Citigroup Inc. after UBS, was the first person convicted of charges related to the rate.
The men, who have all pleaded not guilty, will make their arguments at a later point in the trial. On Tuesday, prosecutor Mukul Chawla took the jurors through all of the brokers' answers in writing or during interviews in 2012 and 2013.
Darrell Read, 50: A former ICAP broker, Read lived in New Zealand and declined to be interviewed by the SFO. Instead he provided a written statement in which he denied any involvement in seeking to influence Libor, claiming that no broker could sway what a bank chose to submit each day. He only passed on Hayes's requests for Libor moves to colleague Colin Goodman, who sent ICAP's daily "Libor prediction e-mail," because it gave Goodman a better idea of where Libor might accurately be calculated, he said. He said he didn't believe Goodman's e-mails had any bearing on where Libor was set and wouldn't have done anything to jeopardize his reputation.
Colin Goodman, 53: Goodman also opted to provide a statement rather than answer questions. He claimed that Read and Read's boss, Danny Wilkinson, constantly "badgered" him to change his run-throughs on Hayes's behalf, but he ignored them the "vast majority" of times because he took pride in the accuracy of the daily prediction e-mail. On the rare occasions he accommodated them it was due to the pressure they applied, and he only changed the predictions within a range of where Libor could legitimately be set, he said.
Danny Wilkinson, 48: Wilkinson declined to answer any questions or provide a statement, on the grounds that he was subject to investigation by authorities in the U.S. and he was concerned any answers could be used in future proceedings against him.
Terry Farr, 44: Farr, a former broker at RP Martin in London, provided a statement in which he said that as a cash broker he didn't understand the "mechanics of derivatives." He was aware of the term "Libor," but had no idea what it stood for or how it was used in financial markets. He also didn't know how a bank came up with its submissions. No one told him he was doing anything wrong, so he thought it was fine.


James Gilmour, 50: Gilmour, who answered to Farr at RP Martin, agreed to be interviewed by the SFO in December 2012. He said he would fob off Hayes by agreeing to pass on his requests for movements in Libor, but then doing nothing. He accepted that on occasion he made suggestions to rate-setting banks, but said that was not an attempt to influence them since their submissions were a matter entirely for them.


Noel Cryan, 49: Cryan answered questions in an interview in 2013. He said he had known Hayes since the trader started out in the market as a shy, awkward rookie, but over time the Hayes developed a "god-syndrome." Cryan said Hayes was "psychotic" and abusive to brokers. When Hayes asked him to move the rate, Cryan said he couldn't say no or he would have been sacked, since Hayes was such an important client. Instead he agreed to help, but never actually passed Hayes's requests along.


The trial is scheduled to last 12 weeks. Hayes is appealing both his conviction and a 14-year-prison sentence issued by the judge.
(A previous version of the story was corrected to replace a missing word in the first paragraph.)