Barclays to Follow Goldman in Arranging Solar Bonds in Japan
By , , and
Goldman arranged bonds to finance 16 solar projects in Japan

Japan sees clean energy doubling as power source in 2030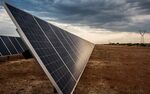 Barclays Plc plans to follow Goldman Sachs Group Inc. in arranging bonds that finance solar power in Japan as early as next year, with the government forecasting incentives will double clean energy output in 15 years.
"Renewable energy is a sector that has a great potential," said Morifumi Yotsumoto, the head of debt capital markets at the banking section of Barclays in Tokyo. Project bonds are attractive for investors "as an alternative that offers a long-term and relatively high spread," he said in an interview.
Goldman Sachs has been arranging solar bonds since 2013, a year after the government introduced incentives it says will help push renewable energy to as much as 24 percent of total power supply by 2030. Barclays expects the notes to have higher yield premiums than regular corporate debt, which has an average spread of 26 basis points, according to Bank of America Merrill Lynch data.
"There are major investors looking to diversify their investments, including project finance," said Akihiko Inoue, the chief structured finance analyst at Mizuho Securities Co., a unit of Japan's third-biggest bank. "It is possible they will buy up those project bonds given the current state of interest rates."

Barclays is considering arranging as much as 50 billion yen ($418 million) of notes that will finance a maximum of 300 megawatts of solar projects, Yotsumoto at the U.K. bank said. "It may be slow at the start but it is the kind of market that quickly expands once investors get the hang of it," he said.
Goldman Sachs has arranged 17.3 billion yen of bonds for 16 solar projects with a combined capacity of 58 megawatts, according to the U.S. lender.
The bond offerings come as Japanese companies decrease debt sales because they hold record cash while banks are boosting lending. Corporate note issuance since April 1 has dropped 36 percent to 4.324 trillion yen compared with a year earlier, according to data compiled by Bloomberg.
Price Guarantee
The Japanese government has been encouraging the use of clean energy via a policy tool called feed-in tariffs, which guarantee that producers will receive a set price for power. As of the end of June, the government has approved 82 gigawatts of solar projects, about a quarter of which has gone online. One gigawatt is 1,000 megawatts.
Japan added 9.7 gigawatts of solar power in 2014, the largest increase after China's 10.6 gigawatts in terms of installed capacity, according to the International Energy Agency. Germany has the world's biggest cumulative capacity at 38.2 gigawatts and Japan is ranked third with 23.3 gigawatts, according to a report by the organization.
Canadian Investment
Canadian Solar Inc., the third-biggest solar-panel producer, agreed to build its largest power plant in Japan, it said in a statement this month. The 47-megawatt Mashiki project has a 20-year contract to supply power to Kyushu Electric Power Co. for 36 yen a kilowatt-hour, the Guelph, Ontario-based company said.
Among companies that Barclays is considering financing through project bonds is Renewable Japan Co., according to Yotsumoto.
Renewable Japan plans to sell about 20 billion yen of such notes via Barclays next year to diversify ways to raise cash, said president Katsuhito Manabe, who has worked for Lehman Brothers Holdings Inc. and Barclays in Japan.
"Our focus has been indirect financing -- borrowing from financial institutions and non-banks," said Manabe. "We will continue doing that but also want to enter the capital markets. Since we have a fair number of projects, it is possible that we won't get enough from bank loans alone."