Austerity, Not Luck, Has Irish ETF Tripling European Peers
Ireland has trumped its euro zone peers.
by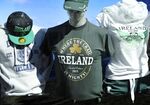 The Ireland exchange-traded fund is blowing away its European peers. By a lot.
The iShares MSCI Ireland Capped ETF (EIRL) is up 15 percent this year–one of only a handful of ETFs, out of 1,500, with more than a 10 percent return. Pulling the thread on that relative performance unveils a long-term performance for the ages that traces back to the European debt crisis of 2011.
EIRL is up a stunning 118 percent since 2011–the best performance for any European country, by far–and three times more than the 43 percent return for Europe as a whole, as represented by the Vanguard FTSE Europe ETF (VGK). You can see the two performances, side-by-side, in the chart below:

A big reason the country has done so well is that it applied austerity in quick and dramatic fashion by cutting spending and raising taxes. This, along with a weak euro which helped bolster exports, has Ireland's government predicting gross domestic product growth of 6 percent this year, matching last year's pace. In addition, the country's unemployment rate has dropped, from 15 percent in 2012 to 9.7 percent today.
Ireland's performance over the past four years stands in stark contrast to its peripheral peers in the euro zone. Portuguese stocks are down about 12 percent, equities in Italy are up 32 percent, and Spain's are up 15 percent. Unsurprisingly, debt-ridden Greece has been the worst performer, down 33 percent since the debt crisis.
Despite that remarkable performance, Ireland remains sort of a 'lost country' when it comes to the index and the ETF world, simply because its stock market is so small. In the $57 billion iShares MSCI EAFE ETF (EFA), the most popular developed-markets ETF, for instance, Ireland has a microscopic .89 percent weighting. In the $15 billion VGK, Ireland has but a 1.5 percent weighting, as seen in the chart below. In other words, most investors probably haven't felt much of Ireland's epic run.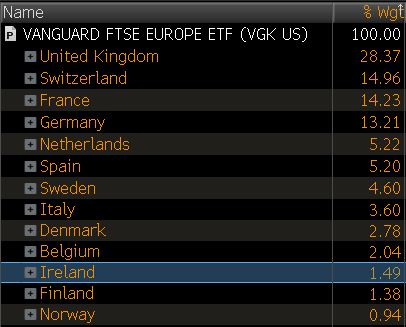 Unless, that is, they invested in EIRL directly. The ETF now has $164 million in assets–up from $4 million in late 2011, when the debt crisis was in full bloom. That growth is above average for a small, single-country ETF. EIRL also has a trading volume of $1 million a day, which shows very low turnover for an ETF. This means that these investors are investing in Ireland and not necessarily trading it.
That said, Irish Finance Minister Michael Noonan is due to unveil his new budget on Tuesday, which could see a reversal of some of the country's recent austerity measures. EIRL investors will no doubt be watching.
Eric Balchunas is an exchange-traded-fund analyst at Bloomberg. This piece was edited by Bloomberg News.
Before it's here, it's on the Bloomberg Terminal.
LEARN MORE