Wozniak on the Steve Jobs Movie and Why Accuracy Doesn't Matter
"Everything in the movie didn't happen," the Apple co-founder said. But he said it's still the best-ever on-screen depiction of Jobs.
By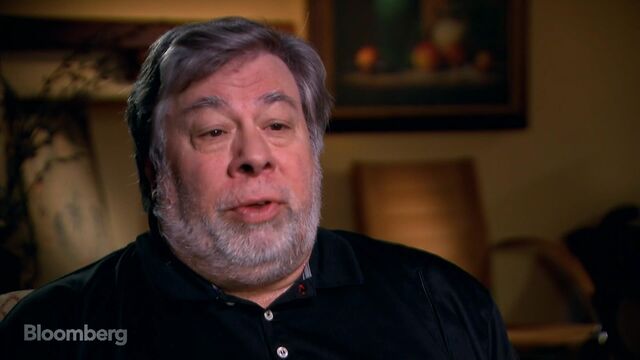 In the movie Steve Jobs, Steve Wozniak serves as the film's conscience. The Apple co-founder, played by Seth Rogen, is an awkward but assertive counterbalance to Jobs. Wozniak's on-screen confrontations are some of the movie's most memorable. According to the real Woz, they are all fiction.
In his first in-depth interview since Steve Jobs's release in some U.S. theaters, Wozniak said Rogen's character "said things I could never say." "Everything in the movie didn't happen," Wozniak told Bloomberg TV. "Every scene that I'm in, I wasn't talking to Steve Jobs at those events."
Before seeing the movie, Wozniak told Bloomberg that a scene in the trailer was invented. Wozniak consulted for the film, which entailed "hours and hours" of discussions with screenwriter Aaron Sorkin and attendance with Rogen at a magic show in Los Angeles. Wozniak had also talked extensively with Walter Isaacson for the 2011 Jobs biography on which the movie is based. Wozniak said he has never read the book. "I was there, and I don't need to read all this stuff," he said.
Sorkin described the movie as a "portrait," not a photograph, in an on-stage interview at an Oct. 9 screening of the movie in San Francisco. (Wozniak was in the audience.) The film is structured around the backstage preparation for three product-launch events hosted by Jobs, which Sorkin said he chose as a way to break from the traditional life-story format of a biopic. The writer joked about the improbability of Jobs's most significant life moments happening immediately before announcing a new computer.
Even though the real-world events didn't happen as they do in the movie, Wozniak said Steve Jobs is the best depiction of Apple yet, and he has already seen it three times. Wozniak said that Michael Fassbender, whose performance has made him an Oscar favorite, showed the "brilliance" he loved about Jobs, as well as the flaws. "But it is not how Jobs acted in any way," Wozniak said. "The movie is not about reality. It's about personalities."
Wozniak touched on other subjects in the interview, including his admiration for Elon Musk, innovation at Apple, and a conversation with Jobs before his death about the possibility of Wozniak's return to Apple. "I said, 'No, I love the life I have,'" Wozniak recalled. "I'm not the person for it."