With Record Dell Deal, EMC Chief Finally Answers an Old Question
by
CEO since 2001 has faced years of merger speculation

Tucci predicted tech industry sea-change back in 2009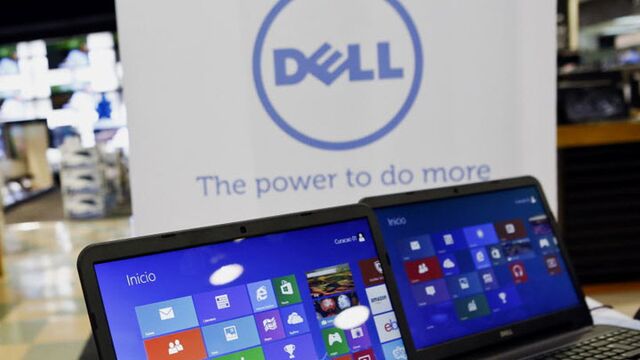 For almost his entire time as chief executive of EMC Corp., Joe Tucci has been dogged by one question: would the company survive on its own?
The answer finally arrived Monday, in the form of the biggest technology deal in history: Dell Inc. agreed to buy EMC for $67 billion. Tucci's company is the top maker of data-storage devices but it's been the leader of a slumping market, as rivals emerged touting faster or cheaper technologies. Now it will be up to Dell to chart a course through a rapidly changing industry, as EMC's older and pricier models, some the size of refrigerators, are challenged by cloud storage and other choices.
Tucci, who talked about the company and the industry on Monday like he was discussing one of his children, termed the Dell deal "bittersweet." For more than a decade, he's been contending with shareholders and analysts who regarded the company as acquisition bait, surviving in a state of limbo: too small to make the top tier of technology companies, too large to be easily acquired by any but the biggest.
Four Horsemen
Even one of the best-performing technology acquisitions ever -- EMC's purchase of VMware, which brought returns of more than 42 times the outlay, couldn't silence the skeptics for long.
More recently, Tucci has been dogged by questions about how long he'll stay at the company. He started talking about succession plans as early as 2009, but never got around to naming a successor.
Back in 2000, when he arrived at EMC, Tucci could have been forgiven for thinking his new gig would be easier than the last: saving the ailing computer pioneer Wang Laboratories. EMC had been the second-best performer in the S&P 500 through the previous decade. Businessweek dubbed it one of the "Four Horsemen of The New Economy."
But by January 2001, when Tucci was named CEO, the Internet bubble had burst. Hopkinton, Massachusetts-based EMC crashed back down to earth as the Web companies ponying up for pricey storage went belly up or pared their spending, precipitating a two-year slide in EMC's sales before Tucci was able to turn it around.
Under a Cloud
The subsequent decade saw repeated speculation of a merger with Cisco Systems Inc, helmed by Tucci's longtime friend John Chambers, or Hewlett-Packard Co. There were discussions with Dell, whose then-CEO Kevin Rollins has said he wanted to acquire EMC but couldn't convince Chairman Michael Dell.
With his $635 million acquisition of VMware in 2004, Tucci bought some time: profits surged to a record, and the stock price responded. But the gains were modest: after topping $100 in 2000, EMC shares never rose above $30 between 2002 and 2013. Meanwhile, its technology was being overshadowed by the cloud -- the emergence of vendors like Amazon.com Inc. that rented Web-based storage, eliminating the need for customers to buy their own -- and by startups that used newer, faster flash-storage technologies.
Succession Talk
EMC has sought to compete by acquiring companies like Isilon and XtremIO, a flash-storage vendor whose product the company says will underpin a $1 billion business this year. That would make it the fastest EMC offering to ever reach that milestone.
It hasn't been enough to make up for declines in older businesses. Revenue is projected to expand 3 percent this year, the slowest since a decline in 2009, according to data compiled by Bloomberg. Meanwhile, questions about Tucci's successor have lingered as he's repeatedly pushed off announced retirement dates, the most recent in February.
Activist investor Elliott Management Corp., with a 2.2 percent stake in EMC, has been heaping more pressure on the company and its CEO, demanding that EMC spin off VMware. When Tucci refused, it left a takeover as one of the only remaining options to quiet concerns.
Time to Act
By the spring of 2014 it was clear Tucci needed to act. The board undertook a strategic review and in the fall of that year there were talks about a merger with Hewlett-Packard that ultimately fell apart over questions of price and executive roles, people familiar with the matter said. Around the same time, Tucci fielded a call from Michael Dell proposing the combination that took until today to be finalized.
Tucci could be eligible for about $33 million if he leaves the company for good reason or he's terminated without cause within two years of the deal's completion, according to data compiled by Bloomberg. That includes equity valued at Dell's offer price of $33.15 a share.
The Dell deal "would be viewed as a solid way to end a bad situation after years of struggles," said Daniel Ives, an analyst at FBR Capital Markets & Co.
No More Surfing
In a 2009 interview with Bloomberg, Tucci said it was "absolutely crazy" to say that EMC can't remain independent. Even so, if a company came along and "felt they could get more value" from EMC and were willing to pay for that, EMC would consider the offer, he said.
In that same interview, he predicted changes that would overwhelm many well-known companies.
"When you have a sea change, it never goes back to the way it was," Tucci said. "I would predict that if you look at the major players now, six years from now there is a change to that list. More than one will surf it well and more than one will not surf it well. My job is just very, very simple: Surf it well."
Almost exactly six years later, as far as public markets are concerned, it's EMC that will be disappearing from the list. Tucci has surfed all the way to the shore. Whether EMC can use Dell's server business, and some time out of the public eye, to restructure and come back stronger is now up to Michael Dell.
Before it's here, it's on the Bloomberg Terminal.
LEARN MORE