U.S. Stocks Advance Before Corporate Earnings Reports This Week
by
Dell to buy EMC in $67 billion deal, biggest ever in tech

Amazon.com reaches record, paces gains in retailer shares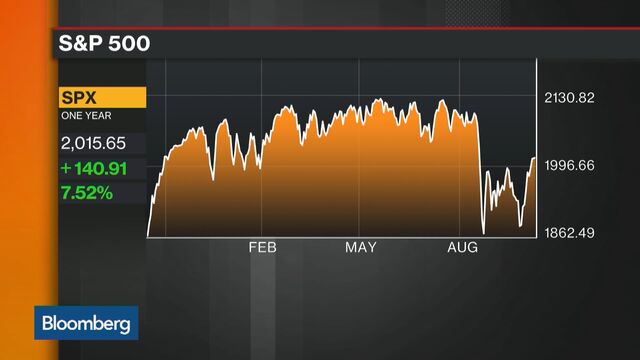 U.S. stocks rose for a fourth day amid gains in retailers as Amazon.com Inc. climbed to a record, and investors awaited further indications on the strength of the world's biggest economy from corporate earnings reports.
Equities moved in a narrow range in light trading, with consumer shares taking the lead as commodity producers, October's best performers, retreated for a second day. The S&P 500 remained at a seven-week high, with energy stocks losing momentum after snapping on Friday their longest rally in six years.
The S&P 500 rose 0.1 percent to 2,017.46 at 4 p.m. in New York, with the benchmark holding in an 8 point range amid the calmest day of trading since June. The Dow Jones Industrial Average added 47.37 points, or 0.3 percent, to 17,131.86. The Nasdaq Composite Index increased 0.2 percent. About 5.1 billion shares traded hands on U.S. exchanges, 30 percent below the three-month average amid the Columbus Day holiday.
"As long as earnings are fair or better than the expectations, I think we're going to be OK," said Andrew Brenner, the head of international fixed income for National Alliance Capital Markets. "All of sudden people are saying, well, China's not so bad. Emerging markets are coming back. Oil is coming back. I'm looking for a grind higher."

Profits at S&P 500 companies are projected to have fallen 7.2 percent in the third quarter, with energy and materials companies showing the steepest drop, according to analyst forecasts compiled by Bloomberg. Alcoa unofficially kicked off the reporting season on Oct. 8, with sales and profit missing estimates. Some 35 S&P 500 companies are scheduled to report results this week, including Johnson & Johnson, Intel Corp. and JPMorgan Chase & Co. on Tuesday.
Investors are also listening for further hints on the Federal Reserve's policy intentions. Fed Vice Chairman Stanley Fischer said the U.S. economy may be strong enough to merit an interest-rate increase by the end of 2015, while noting that policy makers are also considering slower job growth and international developments. Fischer spoke at the annual meeting of the International Monetary Fund in Lima on Sunday.
Fed Bank of Atlanta President Dennis Lockhart, speaking Monday to a group of economists in Orlando, Florida, repeated his view that he backs the first rate increase since 2006 by the end of the year. Chicago Fed's Charles Evans today also reiterated his view that a later liftoff may be the best policy as inflation struggles to gain traction.
The S&P 500 surged to its best week in 2015 after Fed meeting minutes last Thursday showed caution over raising interest rates even as the economy improves. That helped push expectations for an increase further into next year. Traders are now pricing in about a 39 percent chance of a rate liftoff in December, with a 60 percent probability of a March raise. 
Concerns over a China-led slowdown in international growth and the central bank's decision last month to not raise borrowing costs jolted investors, with the S&P 500 losing 5.7 percent in the eight days following the meeting. The benchmark has rallied 5.1 percent in October as it rebounds from the worst quarter since 2011.
Volatility Fades
The Chicago Board Options Exchange Volatility Index fell 5.3 percent Monday to 16.17, the lowest since Aug. 19. The measure of market turbulence known as the VIX has declined for 10 days, the longest retreat in six years, and is down 34 percent this month.
Among the S&P 500's main industries, energy and raw-materials retreated at least 0.8 percent to slip for a second day. The two have led the benchmark higher this month with gains of at least 9.5 percent. Utilities and consumer discretionary stocks were the best performers, with power companies reaching their highest level since Aug. 21.
A group of retailers in the benchmark index advanced, rising for the eighth time in nine days. Ross Stores Inc. gained 3 percent, its best day in seven weeks, while Priceline Group Inc. added 2.6 percent to a two-month high. Amazon increased 1.9 percent to an all-time high, and has rallied 11 percent in the last nine days.
Eli Lilly was a drag on the health-care group as it slid 7.8 percent, the most since December 2008. The drug maker said it will stop development of evacetrapib, an experimental cholesterol drug with blockbuster potential, because it wasn't effective enough in clinical trials. Regeneron Pharmaceuticals Inc., which has an alternative drug to Lilly's, gained 4.6 percent.
The Nasdaq Biotechnology Index eked out a gain for a second day, buoyed by Regeneron and a 2.3 percent gain in Amgen Inc., which also has an alternative to Lilly's failed drug. Managed-care companies UnitedHealth Group Inc. and Anthem also gave the health-care group a lift, rising at least 2.4 percent.
EMC Deal
EMC Corp. added 1.8 percent, trimming an earlier 3.3 percent climb, after Dell Inc. agreed to buy the data-storage company for about $67 billion in the largest technology acquisition ever. The deal creates a corporate-computing giant that will use a wider product lineup to woo customers as demand slows and competition stiffens.
Dell plans to pay $24.05 a share in cash plus tracking stock in EMC's prize holding, software maker VMware Inc., valued at about $9 for each EMC share. The buyout's structure caused VMware's stock to slump 8.1 percent, based on concerns that the tracking stock will dilute the software maker's valuation.
A Bloomberg index of U.S. airlines rallied for a fourth day amid a pullback in oil. JetBlue Airways Corp. and United Continental Holdings Inc. increased more than 2.9 percent. Regional carrier SkyWest Inc. jumped 11 percent to a seven-year high.

Transocean Ltd. fell 7.6 percent to lead energy shares lower. The offshore drilling contractor has been one of the strongest performers in the S&P 500 this month, rising more than 21 percent. Chesapeake Energy Corp. lost 7.2 percent to pare its October gain to 12 percent. Oil dropped the most in six weeks after OPEC reported that its members pumped the most crude in three years.
Freeport-McMoRan Inc. dropped 4.1 percent, the most among raw-materials as the copper producer declined for the first time in 10 sessions. Copper prices will remain low through next year and only see a "measured" recovery in early 2017 due to weak growth in China and strong supplies, according to Chile's top mining official.
International Paper Co. sank 3 percent, retracing more than half of Friday's 5.2 percent rally that came as the the world's largest paper producer is taking a step back from manufacturing in Asia amid intense competition.
Avon Products Inc. shares tumbled 7.5 percent after Canaccord Genuity said the company's prospects as a takeover target are probably overblown. The cosmetics seller may not make sense as an acquisition for rivals in the makeup industry or private-equity buyers, Canaccord analyst Eddy Hargreaves said in a report.
Before it's here, it's on the Bloomberg Terminal.
LEARN MORE