U.K. EU Exit Would Be `Leap in the Dark,' In Campaign Head Says
by and
Rose attacks `quitters,' says they can't guarantee jobs

CBI says Britain gets 10-to-one investment return from EU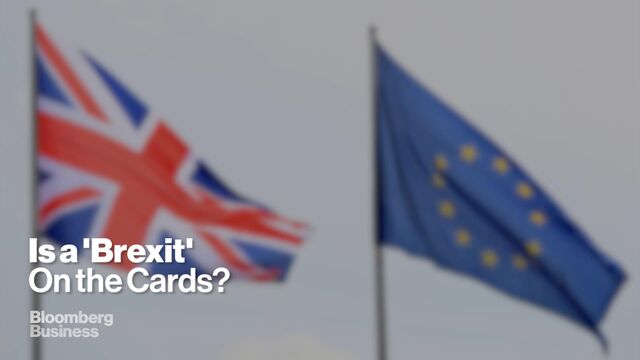 Leaving the European Union would be "just not worth the risk" for Britain, the leader of the campaign to keep the U.K. in the 28-nation bloc said.

"The quitters have no idea whether we would be able to access Europe's free-trade area, or what the price of admission would be," Stuart Rose, the former chief executive officer of Marks & Spencer Plc, told the "In" campaign's launch event in London. "The quitters have no idea how long it would take to renegotiate existing trade deals or how difficult it would be to negotiate new ones outside the EU, let alone how inferior the terms would be. The quitters cannot guarantee that jobs would be safe and prices wouldn't rise."
Prime Minister David Cameron has begun a renegotiation of Britain's terms of membership of the EU and has pledged to put the results to a referendum by the end of 2017. The Sunday Telegraph newspaper reported that he's seeking a deal on four points, including explicit pledges on the status of the pound and London's financial district. Two rival campaigns have formed to promote a vote to leave.
Rose pointed to calculations by the Confederation of British Industry that the benefits of EU membership amount to 3,000 pounds ($4,600) a year for each British household.
"When you consider that our annual contribution is equivalent to 340 pounds per household, our contribution to the EU is an investment on which British families get a 10-to-one return," he said. "Quite simply, British families are stronger and better off in Europe."
'Not Uncritical'
Noting that he's "not an uncritical fan of the European Union," the former M&S chief dismissed arguments that a vote to leave the bloc would be the "patriotic" option.
"To claim that the patriotic course for Britain is to retreat, withdraw and become inward-looking is to misunderstand who we are as a nation," he said. "I will not allow anyone to tell me I'm any less British because I believe in the strongest possible Britain for business, for our security and our society."
Rose told the event that he believes "we are stronger in, because there is strength in numbers."
Cameron held talks on the renegotiation over dinner at his country retreat Friday with German Chancellor Angela Merkel. Britain's demands will form part of the discussions at an EU summit in Brussels later this week.
The premier "noted that the technical talks are progressing well but that there is still much to be worked through in order to find a solution," Cameron's office said in a statement. "Chancellor Merkel reiterated that she wanted Britain to remain in the EU."
For more, read this QuickTake: Will Britain Leave the EU?
Before it's here, it's on the Bloomberg Terminal.
LEARN MORE