Sharp's Latest Phone Will Dance For You (And Remember Your Shopping List)
The RoBoHoN is filled with features including a digital assistant, voice recognition, built-in projector and quad-core processor - and it can dance.
By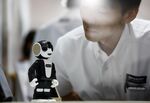 Sharp Corp.'s newest smartphone does everything consumers would expect, from making calls and sending text messages to accessing e-mail and setting alarms. It also looks -- and dances -- like a tuxedo-wearing robot.