Putin's Bombing of Syria's Moderates Must Stop Now, EU Says
by
EU backs direct talks with Assad regime as part of UN effort

Russia's military escalation risks prolonging war, bloc says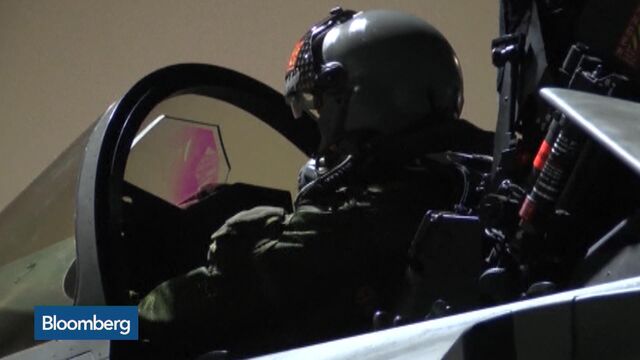 European Union governments demanded Russia stop targeting moderate groups opposed to Syrian President Bashar al-Assad after days of aerial bombardment and cruise-missile attacks.
Scrambling to come up with a unified response to Vladimir Putin's intervention in the crisis, foreign ministers of the EU's 28 nations demanded Russia bomb only Islamic State extremists and other recognized terrorists or risk extending a civil war that's already in its fifth year.
"The recent Russian military attacks that go beyond" Islamic State and target the moderate Syrian opposition "are of deep concern and must cease immediately," the ministers said in a statement from their meeting in Luxembourg. "This military escalation risks prolonging the conflict, undermining a political process, aggravating the humanitarian situation and increasing radicalization."
Cruise Missiles
Putin is building up his military presence in Assad's stronghold on the eastern Mediterranean, has fired cruise missiles from the Caspian Sea and violated Turkish airspace during bombing raids. The air campaign came as a surprise to the U.S. and EU countries, which have been conducting their own bombardments of IS targets.
Russian jets destroyed 25 IS positions in the past 24 hours, the country's Interfax news agency reported earlier on Monday.
Putin's intervention, aimed at shoring up long-term ally Assad, was "a game changer," the EU's foreign-policy chief, Federica Mogherini, told reporters at the meeting. She said the EU is pledging "united European support" for Syrian mediation efforts by United Nations envoy Staffan de Mistura, and backed direct talks with the Assad regime.
The UN is "talking to the regime and this is something that, as we support the UN-led process, we can support," Mogherini said. There needs to be a "reality check," which means having "representatives of the regime at the negotiating table," she said.
Ukraine Crisis
Russia has dominated the European foreign ministers' agenda ever since Putin annexed Crimea last year and supported armed rebels in eastern Ukraine. Subsequent economic sanctions that the EU imposed on Russia will expire at the end of January unless all EU nations vote to prolong them -- a process that may be complicated by Russia's foray into Syria, an EU diplomat said on Friday.
In Syria, "the role that Russia can play in exercising pressure or involvement of the regime in the political process itself -- that is going to be a very significant and important role," Mogherini said.
Before it's here, it's on the Bloomberg Terminal.
LEARN MORE