Princeton University's Deaton Wins 2015 Nobel Prize in Economics
by and
Scottish-born professor called Obi-Wan Kenobi of economics

Nobel winner sees futher progress in reducing global poverty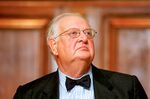 Angus Deaton of Princeton University was awarded the 2015 Nobel Prize in Economics for his detailed analysis and measurement of consumer spending and global poverty.
"To design economic policy that promotes welfare and reduces poverty, we must first understand individual consumption choices," the Royal Swedish Academy of Sciences said on Monday, in announcing the award. "More than anyone else, Angus Deaton has enhanced this understanding."
The 69-year-old Scottish-born economist uses his meticulous study of households and their spending habits to help calculate overall consumption and poverty, both on a national level and worldwide. His more recent research also has focused on health in rich and poor countries, including India, tying, for example, calorie intake by individuals to their levels of income.
"We've had a remarkable decrease over the last twenty or thirty years" in extreme poverty worldwide, he told reporters in Stockholm by phone from the U.S. "And I do expect that to continue."
Jedi Master
Fans were quick to applaud the choice. "Angus Deaton is the Obi-Wan Kenobi of economics," Amitabh Chandra of Harvard University said in a tweet, referring to the wise teacher in the 'Star Wars' films.
Deaton "has woven together economic and econometric theory with painstaking data analysis," James Poterba, president of the National Bureau of Economic Research, which is responsible for dating the beginnings and endings of U.S. recessions, said in an e-mail.
"He has developed new tools for studying consumption and welfare that are used by economists around the globe," added Poterba, who is also a professor at the Massachusetts Institute of Technology in Cambridge.
Deaton said he was "pretty sleepy" when the Academy called to inform him of the award. "Like many economists, I knew this was a possibility, and was delighted to hear" from Stockholm, he said.
Consumer Adaptation
Deaton's early research helped develop a greater understanding of consumer spending patterns and how people adapt their consumption to their incomes. His more recent focus on household surveys has helped change development economics from a theoretical field based on aggregate data to an empirical field based on detailed information on the individual, the Academy said.
Mats Persson, a member of the committee that hands out the prize, said Deaton's work on development economics "is very practically applicable."
"How to measure poverty, how to make statistics of living standards in poor countries, has poverty increased or decreased, and if so, by how much, and how should we direct foreign aid?"
Government Limited
Dani Rodrik, a Harvard University professor who studied under Deaton some 35 years ago, said the Nobel prize winner is "quite skeptical and critical of what governments can do," including in providing foreign aid.
Deaton's studies into demand also shed light on how policy measures feed through to households in an economy, Persson said. "If, for instance, a government decides to change the value-added tax on food, you can, through his research, see how that affects consumption and what impact it would have on food and other goods," he said.
A citizen of the U.S. and the U.K., Deaton obtained his Ph.D. in economics from the University of Cambridge in 1974 and has taught at Princeton since 1983. His 2013 book, 'The Great Escape,' maps the origins of inequality and its fallout spanning 250 years of economic history.
While Deaton told reporters he sees further progress ahead in reducing global poverty, he quickly added that he didn't want to come off as a "blind optimist."
"You have to keep remembering that we're not out of the woods yet and that for many, many people in the world, things are very bad indeed," he said.
Rising Inequality
He also voiced concern about slowing economic growth and rising inequality in the U.S. and other wealthy countries and the threat those developments pose to overall well-being.
Deaton traced his interest in poverty back to his upbringing in Edinburgh. "I was certainly short of money until long after I was an undergraduate," he said at a separate press conference at Princeton.
Above all, though, he stressed the importance he places in "trying to be careful and honest about measurement, even if you're forced to change your mind."
"I feel passionately about measurement, about how difficult it is," he said, describing the work that won him the Nobel prize.
Before it's here, it's on the Bloomberg Terminal.
LEARN MORE