Merkel Seeks Turkey's Aid on Borders to Stem Refugee Flow to EU
by and
Turkey has to help stem stream to Europe, German leader says

EU to discuss engaging with Turkey at summit this week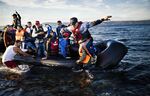 Chancellor Angela Merkel said she can't tell Germans how many refugees she'll ask them to welcome, underscoring the political risks of her open-door policy.
In the latest sign of dissent, several lawmakers in Merkel's 311-member parliamentary group criticized her for doing too little to stem the influx, according to two party officials who attended the closed-door caucus meeting in Berlin on Tuesday. Merkel defended her policy, saying a refugee quota is impossible to set, said the officials, who asked not to be identified because the meeting was private.
"We don't know how many there will be," Merkel told members of her Christian Democratic Union at a town-hall event Monday night. "What's needed now is to tackle this with courage and confidence and say we can do this."
With 800,000 or more arrivals expected in Germany this year, Merkel's principled stance has left her out of step with some political allies and an increasing number of voters. Members of her governing coalition are pressing her to come up with a more decisive response as the inflow drags down her approval ratings.
Turkey Talks
European Union leaders plan to discuss the refugee crisis at a summit Thursday, including increased aid to Turkey, the gateway for refugees heading to Europe from Syria. Merkel will then travel to Ankara for talks with Turkish leaders on Sunday.
While the chancellor says Europe's biggest economy can handle the influx of people fleeing war and poverty, her government is considering steps to counter the flow as domestic criticism of her stance increases.
QuickTake Europe's Refugee Crisis
Possible measures include setting up screening centers at Germany's borders to help authorities turn back economic migrants before they enter. That would address a demand by the Christian Social Union, a Merkel-affiliated party that governs the state of Bavaria, the main entry point for refugees coming to Germany. CSU head Horst Seehofer says Merkel bungled the crisis response and now needs to limit migration.
Anti-immigrant protesters marched through the eastern city of Dresden on Monday, some of them carrying symbolic gallows they said was meant for Merkel and Vice Chancellor Sigmar Gabriel. Such a threatening gesture "is beyond the pale," Michael Grosse-Broemer, the parliamentary whip for Merkel's party bloc, told reporters Tuesday.
Schaeuble's Support
Finance Minister Wolfgang Schaeuble, who prodded Merkel to take a tough line during bailout talks for Greece, backed her refugee policy.
"What is she supposed to do?" he said at an industry conference Tuesday in Berlin. "The problem can only be solved by controlling access to Europe itself."
While saying that all 28 European Union countries need to help stem the refugee crisis, Merkel singled out Turkey as part of the solution in her comments to party members in Stade near Hamburg.
In Turkey, control over the border with EU member Greece "was given up at some point" because the country felt overwhelmed and its economy "isn't doing so well anymore," Merkel said. "Naturally, we need to talk to Turkey about that."
Merkel's planned visit to Ankara coincides with turmoil in Turkey after the nation's deadliest terror attack on Oct. 10 and two weeks before general elections. Home to 2 million Syrian refugees, Turkey is an in escalating struggle with Kurdish rebels and has become entangled in the civil war in neighboring Syria.
EU leaders will press for more cooperation with nations such as Turkey to stem the flood of refugees from the Middle East and Africa, according to a draft statement prepared for this week's summit. The EU offered on Oct. 6 to mobilize as much as 1 billion euros ($1.1 billion) this year and next to help Turkey cope with Syrian and Iraqi refugees.
Before it's here, it's on the Bloomberg Terminal.
LEARN MORE