Lockhart Says Improving U.S. Job Market Supports '15 Liftoff
by
Atlanta Fed chief `comforted' by reduced market volatility

Evans repeats mid-2016 call though he also sees `wiggle room'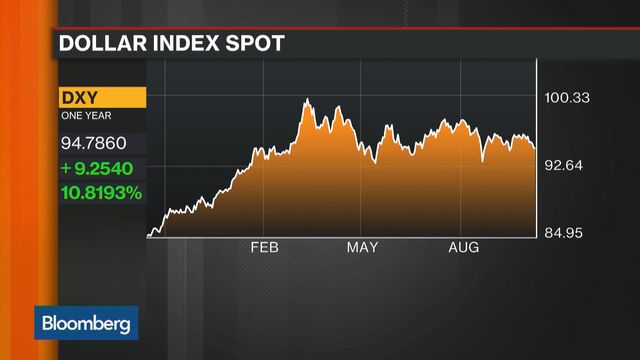 Federal Reserve Bank of Atlanta President Dennis Lockhart said an improving U.S. job market warrants an interest-rate increase this year, reinforcing the message from other officials in recent days that they remain on track for liftoff in 2015.
"We are getting much closer to the finish line from the point of view of whatever you would consider full employment," Lockhart told reporters Monday after a speech in Orlando, Florida. "I would expect to continue to make progress. So the beginning of normalization of interest rates I think is quite justifiable in the context of continuing progress of multiple measures of employment."

Lockhart's remarks echoed Fed Vice Chairman Stanley Fischer, who said Sunday the U.S. economy may be strong enough to merit an interest-rate increase by year end, while cautioning that policy makers are monitoring slower domestic job growth and international developments in deciding the precise timing of liftoff. New York Fed chief William C. Dudley likewise said Friday he was still in the 2015 liftoff camp, provided his outlook for growth and inflation is met.
TheFederal Open Market Committee last month left interest rates unchanged near zero to wait for more information after financial-market turmoil and China's slowdown raised doubts about the outlook for U.S. growth and inflation, minutes of the meeting released last week showed.
Market Turmoil
Lockhart told reporters after a speech to the Association for University Business and Economic Research that market turmoil has since eased.
"I am comforted by the reduction in measured volatility" gauged by market-based indexes, he said. "That gives me some comfort that the turbulence that begin in mid-August has passed," though underlying concerns spurring market swings may remain.
"I can't anticipate whether in the committee's judgment there is enough data in October" for a move at that gathering of the FOMC, he said. "I think October is a live meeting. Clearly, there is the potential that the data coming in advance of the October meeting will be sufficient. And as I said in my remarks, and I repeated, we will have a lot more in December." 
The FOMC meets Oct. 27-28 and Dec. 15-16.
Market Skeptics
Investors are skeptical the Fed will see enough momentum in the economy to act this year. They have cut their bets the Fed will move and now see a roughly 40 percent chance of a move by the December FOMC, based on pricing in federal funds futures, compared to more than 60 percent ahead of last month's meeting. The probability assumes the effective fed funds rate after liftoff will be 0.375 percent.
Lockhart said he is prepared to support liftoff even with inflation far from target. While U.S. unemployment has fallen to 5.1 percent, close to the Fed's estimate of full employment, inflation remains far from the goal. The Fed's preferred gauge of inflation has remained below its 2 percent goal since April 2012. The Fed has kept its benchmark policy rate near zero since December 2008.
Forecasts released at last month's FOMC meeting showed that 13 of 17 policy makers view a rate rise as appropriate this year. 
Chicago Fed President Charles Evans reiterated on Monday that he thought it better to delay until mid-2016, though he gave himself some "wiggle room" by emphasizing that a gradual pace of policy tightening after liftoff was more important than the exact date of the move, and that he expects just three quarter-percentage point increases by the end of next year.
"You could distribute those differently, a bit sooner," he told reporters after giving a speech in Chicago. "I'd have to see how things are coming in and revisit that outlook. There's some wiggle room there."
Before it's here, it's on the Bloomberg Terminal.
LEARN MORE