Lilly Halts Cholesterol Drug, Losing a Potential Blockbuster
by and
Company to take charge of 5 cents a share in fourth quarter

Shares of Merck, which has similar medication, also drop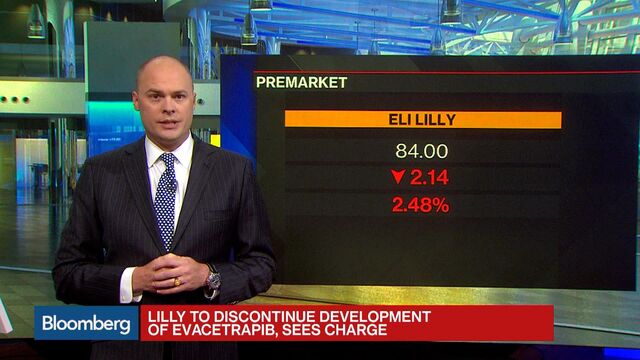 Eli Lilly & Co. said it will stop development of evacetrapib, an experimental cholesterol drug with blockbuster potential, because it failed to benefit patients with heart disease.
Lilly shares fell 7.1 percent to $80.05 at 9:52 a.m. in New York. The drug's failure builds on a series of disappointments for medications that inhibit a molecule known as CETP, which results in higher levels of HDL. Also called good cholesterol, HDL is known to ferry fatty lipids out of the arteries. Merck & Co., which is still developing a CETP inhibitor, slid 1.6 percent to $50.11.
"I don't think that the strategy of CETP inhibition is going to work," Steven Nissen, who led the study at the Cleveland Clinic in Ohio, said in a phone interview. "Evacetrapib was as good a drug in terms of its biological effects as anything we've seen. I think if it didn't work it is very unlikely that any other drugs in the class will work."
Evacetrapib was supposed to raise levels HDL and lower cardiac events such as strokes and heart attacks. Lilly had been testing the drug in more than 12,000 patients, according to a statement Monday. The company was measuring whether the drug lengthened the time before patients under treatment had a cardiac event.
Low Probability
The independent committee monitoring the trial recommended that Lilly end the trial because there was a low probability it would prevent death, heart attacks, strokes or other complications from heart disease. The trial wasn't stopped for safety reasons. Full data from the trial will be reported later, Lilly said.
Lilly has been seeking to rebound from what it has called a low point in sales in 2014, after losing exclusive rights to blockbuster medicines including Cymbalta and Zyprexa. Evacetrapib was projected to reach $632.7 million in sales in 2020, according to the average of seven analysts' estimates compiled by Bloomberg. One analyst, Seamus Fernandez of Leerink Partners, projected the drug would produce $2.45 billion in sales in 2026.
"This unfortunate outcome for evacetrapib does not change our ability to generate long-term growth," said Derica Rice, Lilly's executive vice president and chief financial officer. "Our recent string of positive data-readouts and our strong pipeline position us to grow revenue and expand margins through the remainder of this decade."
The company will take a charge of as much as $90 million, or 5 cents a share after taxes, in the fourth quarter for research and development costs. The drugmaker will include the expense in an updated forecast when it reports third-quarter results on Oct. 22.
Merck's Anacetrapib
Lilly does have enough other drugs in its portfolio to withstand the loss of evacetrapib, including diabetes pill Jardiance and experimental lung-cancer drug necitumumab, said Sam Fazeli, an analyst at Bloomberg Intelligence. Merck is counting more heavily on its anacetrapib to become a success, he said.
"We need to see the data to better understand Lilly's decision to discontinue its CETP program," Merck said in a statement. "Merck continues to believe that anacetrapib has the potential to be an important treatment in the management of atherosclerosis."
Anacetrapib is in a late-stage, 30,000-patient trial, scheduled to be completed by January 2017, to measure whether it reduces the risk of cardiovascular events.
Injectable Drugs
Shares of Amgen Inc., Regeneron Pharmaceuticals Inc. and Sanofi, which had drugs approved by U.S. and European regulators this year for some patients with high cholesterol, all rose on Lilly's news. Since CETP inhibitors can be taken as pills, they have represented a threat to drugs by Amgen and by Regeneron and Sanofi that are delivered via injection.
While drugs such as Pfizer Inc.'s Lipitor have been able to show a reduction in the risk of heart attack or stroke by lowering bad cholesterol, or LDL, the pharmaceutical industry has struggled to lower heart risk by raising HDL. Merck decided not to seek U.S. marketing approval in 2012 for its good cholesterol drug Tredaptive after a key study showed it was ineffective and potentially harmful. The same year, Roche Holding AG stopped tests on dalcetrapib, a pill to raise good cholesterol, because it didn't show clinically meaningful effectiveness. Pfizer dropped its pill torcetrapib in December 2006 after studies showed it raised blood pressure and boosted death rates.
Before it's here, it's on the Bloomberg Terminal.
LEARN MORE