John Laing Buys German Wind Farm From Ventotec for $51 Million
by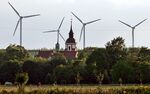 John Laing Group Plc agreed to buy a German wind farm from Ventotec GmbH for between 45 million euros ($51 million) and 50 million euros as the infrastructure investor plows ahead with its plan for renewable energy projects to account for more than a third of its spending commitments this year.
John Laing expects to close the deal for the 89-megawatt, 27 wind turbine site in Klettwitz, eastern Germany, by the end of November, it said Monday in a regulatory statement. The project will earn a feed-in tariff for as many as 20 years, it said.
The shares rose 2.1 percent to 193.2 pence shortly before 9 a.m. in London, leaving the stock 0.9 percent down on its February initial public offering.
Before it's here, it's on the Bloomberg Terminal.
LEARN MORE