Jeb Bush Bringing W. Back to Washington to Host Fundraiser
The former president continues his role raising money for his younger brother's White House campaign.
By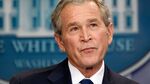 Former President George W. Bush will return to the nation's capital this month to host a fundraiser for his younger brother, Jeb, who is trying to become the next family member to win the presidency.
The former president will host a fundraiser in Washington on Oct. 29—the day after the third Republican presidential debate—at the home of Paul Horvath, chief executive officer of Orchard Global Capital Group, according to a copy of the invitation.
The host committee for the reception includes Andy Card and Josh Bolten, both chiefs of staff for the former president; former U.S. Secretary of Commerce Carlos Gutierrez; and Glenn Youngkin, president and chief operating officer of Carlyle Group, Inc., a Washington-based investment firm.
The former president has hosted at least four fundraisers for his younger brother's presidential campaign this year. In addition to the Washington event, former President Bush is penciled for a fundraising reception for his brother in Denver on Sunday.
George W. Bush remains popular with Republican voters, but has not yet held a public event for his brother, a former Florida governor. Asked in Iowa last week whether he'd have his brother campaign at a public event, Jeb Bush said, "I'm happy that he's supporting me."