HSBC Whistle-Blower Falciani to Skip Trial After Court No-Show
by
Falciani will be tried in absentia next month, his lawyer says

Former HSBC employee is in France; won't appear in Swiss court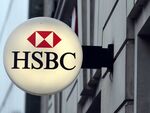 Tax whistle-blower Herve Falciani's trial will resume next month in his absence after the former HSBC Holdings Plc employee failed to turn up at a Swiss courtroom on Monday.
Switzerland's highest criminal court set a fresh trial date of Nov. 2 for Falciani, who's accused of industrial espionage and violation of bank secrecy after he took client documents from HSBC.

Falciani, who's currently in France, has no plans to attend the new date after skipping the hearing in the Swiss town of Bellinzona, according to his lawyer, Marc Henzelin. While Falciani's absence will complicate his defense, his cause is worth defending because he's the only one on trial and the bank has got off lightly, Henzelin said.
"In two years, this trial wouldn't happen" given the global outrage against tax-dodging and the assault on banking secrecy, Henzelin said.
Falciani's revelations, first leaked to the French government, prompted probes by the French, Belgian, U.S. and U.K. authorities into how HSBC's Geneva-based private bank helped clients avoid taxes. Geneva prosecutors began an investigation after the so-called SwissLeaks reports revealed the breadth of HSBC's activities. The bank struck a deal in June that allowed the bank to pay a 40-million Swiss franc ($41.7 million) penalty for "past organizational deficiencies" to close the Geneva probe and avoid criminal charges.
Laurent Moreillon, lawyer for HSBC, said he was not surprised that Falciani did not show up in Bellinzona. "But justice needs to be rendered in an area that could touch any bank," Moreillon said.
The Swiss court said Monday that Falciani in July was offered passage of safe conduct to Bellinzona so he could testify without risking arrest.
Henzelin said after the hearing that while the matter was discussed with the court, no firm offer was made as no firm application for such a right was ever made, given that Falciani had no intention of appearing.
For more, read this QuickTake: Swiss Bank Accounts
Before it's here, it's on the Bloomberg Terminal.
LEARN MORE