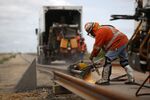 Goldman Sachs economists have turned more pessimistic on the outlook for the U.S. labor-force participation rate, which is already at its lowest level since 1977. 
Just 62.4 percent of civilian, noninstitutionalized Americans ages 16 and older worked or looked for work in September, compared with 66 percent in December 2007, the start of the last recession. Economists, commentators, and even Federal Reserve researchers have spilled a lot of ink debating whether the participation decline is a short-term, "cyclical" aftershock of the economic downturn, or if it signals a more permanent, "structural" shift in the economy.
Goldman economists are coming around to the latter idea. Workforce participation among older workers is picking up more slowly than the economists had initially projected, and discouraged workers entering the workforce are providing less of a boost, according to an Oct. 10 research note.
The trend will cause the participation rate to fall about a quarter percentage-point annually in coming years, and since people not looking for work aren't counted as unemployed, the jobless rate will drop below 4.5 percent in 2018 from its current 5.1 percent, Goldman's team says.

The economists now expect that the "participation gap"—people who are out of the labor force but who might come back in—accounts for 0.3 percent to 0.4 percent of the population. That's a small portion of the big drop since 2007, suggesting that some of the decline, "though originally cyclical, eventually became structural in nature."
"The downward revision to our participation forecast has directionally hawkish implications for monetary policy," writes David Mericle, a New York-based economist at Goldman. "Nevertheless, it is also worth keeping in mind that our results still show a considerable amount of remaining labor market slack, which is consistent with the continued softness of wage and price inflation."
Before it's here, it's on the Bloomberg Terminal.
LEARN MORE