Glencore Expands Asset Sales to Copper in Battle to Cut Debt
by and
Swiss company offers Cobar and Lomas Bayas mines for disposal

Divestments would add to $10 billion debt-reduction program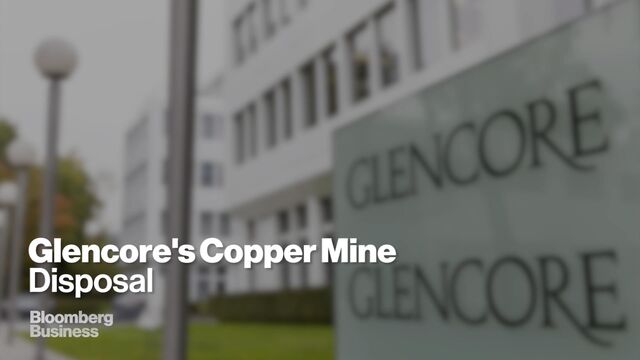 Glencore Plc, the commodity trader and miner seeking to cut its $30 billion debt load by a third amid a rout in prices, is in talks to sell two copper mines in Australia and Chile after approaches from buyers.
The Swiss firm may offload the Cobar mine in Australia's New South Wales and the Lomas Bayas open-pit operation in Chile's Atacama desert, Glencore said Monday in a statement. Combined, the operations produce about 125,000 metric tons of copper a year, and Citigroup Inc. and UBS Group AG said they may fetch as much as $1 billion.
"The assets are small in the context of Glencore's portfolio but likely to be relatively valuable to other entities," Citigroup analyst Heath Jansen, who has a buy rating on the stock, wrote in a report. A sale would be "a positive outcome as it would allow Glencore to focus on larger and more profitable assets while still generating the sale proceeds to de-gear the balance sheet."
Chief Executive Officer Ivan Glasenberg announced a debt-reduction plan in September in response to investor concern about its capacity to repay borrowings after a commodities collapse. That plan includes the already completed sale of $2.5 billion of new stock, asset sales, spending cuts and suspending the dividend -- in total reducing debt to about $20 billion. The shares have almost doubled from a record low set Sept. 28.
Unsolicited Interest
"The sale process is in response to Glencore receiving a number of unsolicited expressions of interest for these mines," the Baar, Switzerland-based company said. "This will allow potential buyers to bid to purchase either one or both of the mines and may or may not result in a sale."
Glencore has said it intends to raise at least $2 billion from the sale of a minority stake in its agricultural assets and precious-metals streaming transactions.
The sales are "unlikely to move the needle much in terms of net debt reduction," based on recent industry deals, Numis Securities Ltd. analysts wrote in a note on Monday, citing a sale in August by Anglo American Plc of two mines that together supply about 100,000 tons of copper a year.
It may get about $350 million to $400 million, Investec Plc analysts estimated in a separate report, extrapolating from a recent deal completed by Anglo American Plc, which got $300 million in cash for two copper mines, potentially rising to $500 million if metals prices increase. Citigroup said their $1 billion estimate on the Glencore assets is based on a long-term copper price of $6,200 a ton.

"Copper isn't performing well, yet in fact that's actually adding to its appeal as it's probably now at the bottom of its price cycle," Gavin Wendt, senior resource analyst at Mine Life Pty in Sydney, said by phone. "It's understandable that people are out there and looking to acquire copper assets at this moment."
Copper reached a six-year low in August. The metal rose 0.4 percent to $5,315 a ton by 5 p.m. on the London Metal Exchange. That's about half the record level of $10,190 set in 2011.
Glasenberg was buying up assets near the peak of the commodities boom, including the $29 billion all-share deal for Xstrata Plc in 2012. He's now seeking to reduce debt to stave off a potential credit rating cut.
"I'm concerned about a company that's supposed to have this great trading acumen that seems to be buying things at the top of the market and selling them at the bottom," Jim Chanos, founder of Kynikos Associates LP who predicted the 2001 collapse of Enron Corp., said in an interview with Bloomberg Television in New York. That "just doesn't sound smart to me," he said.
Glencore fell 6.2 percent to 121.15 pence by the close on Monday in London, erasing an earlier gain of as much a 4 percent. The shares are down 59 percent this year, valuing the company at about $27 billion.
Volatile Stock
The stock has swung wildly in London in the past few weeks. It plunged a record 29 percent on Sept. 28 on concern weak prices threatened its ability to repay debt. The shares have since rebounded after the company refuted those concerns, announced further reduction cuts and as investors including the sovereign wealth fund of Singapore were said to have expressed interest in a minority stake in its agriculture business.
"Glencore has a pragmatic approach to managing the business with no sacred cows in the portfolio and every asset for sale at the right price," UBS analyst Myles Allsop, who has a buy rating on the stock, wrote in a note. "Mid-cap base metal producers and private equity are likely to be interested."
Peter Grauer, the chairman of Bloomberg LP, the parent of Bloomberg News, is a senior independent non-executive director at Glencore.
Before it's here, it's on the Bloomberg Terminal.
LEARN MORE