Fortress Said to Plan Closing Macro Fund Run by Novogratz
Saijel Kishan and Katherine Burton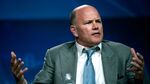 Fortress Investment Group LLC plans to liquidate its macro business run by Michael Novogratz after two years of losses, according to a person with knowledge of the firm.
The firm intends to inform investors about the move in the coming days, said the person, who asked not to be identified because the information is private. Novogratz is expected to leave the firm by the end of the year.
Gordon Runte, a spokesman for Fortress in New York, said he couldn't comment. Novogratz didn't immediately return a message seeking comment.
The fund's closing marks the end of a run for Novogratz, 50, a former wrestler and U.S. army helicopter pilot, who started Fortress's macro strategy in 2002 and helped build it into a business with $8.1 billion in assets at its 2007 peak. Fortress joins a number of firms that have closed hedge funds this year, including Bain Capital and Cargill Inc.'s Black River Asset Management unit.
Fortress, the first publicly traded private equity and hedge fund manager in the U.S., declined 3.4 percent Monday in New York, extending losses after news that the business would be wound down. The stock has lost 32 percent this year.
Goldman Trader
The macro fund started 2015 on a bad footing when a euro-Swiss franc wager went wrong. Losses have since worsened to 17.5 percent this year through September. It was down 1.6 percent in
2014.
Losses and redemptions cut assets in the macro strategy to $2.3 billion by June of this year, with $1 billion in the fund and the remainder in client accounts. Novogratz's liquid markets business contributed just $3 million to Fortress's $192 million in pretax distributable earnings in the first half.
Novogratz, a former Goldman Sachs Group Inc. trader who owns a stake in Fortress, became the sole manager of the macro strategy in July after Jeff Feig and most of the fund's other managers agreed to leave.
Novogratz told investors and analysts that month that he was "right-sizing the business, scaling it down to an appropriate size for one risk-taker," to turn around performance.
Related News and Information: