Former PetroChina Chairman Sentenced to 16 Years for Corruption
by
Jiang Jiemin conviction linked to fall of Zhou Yongkang

Jiang targeted after being named to oversee state enterprises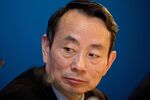 The former chairman of China's biggest oil producer was sentenced to 16 years in prison for taking bribes and abuse of power, the latest high-ranking official to be taken down in President Xi Jinping's campaign to weed out corruption in the Communist Party.
Jiang Jiemin,  former chairman of China National Petroleum Corp. and its listed unit PetroChina Co., accepted the sentence and won't appeal the ruling by the Hanjiang Intermediate People's Court in Hubei , the official China Central Television reported Monday. Authorities also confiscated about  about 1 million yuan ($157,600) from Jiang, 60, after he failed to explain where it came from, the report said.

Jiang is one of the highest-ranking officials to be snared in Xi's effort to combat graft, which the Chinese leader has said threatens the legitimacy of the Communist Party and its continued grip on power. Jiang's prosecution was part of an effort to root out corruption by Zhou Yongkang, a one-time member of the Politburo Standing Committee, who dominated the Chinese energy industry for more than three decades with the help of Jiang. Zhou was sentenced to life in prison in June.
With the support of Zhou, Jiang used his influence at CNPC between 2004 to 2008 to help unidentified sources win bids for oil and gas exploration, gas turbine generation and natural gas supply contracts, the official Xinhua News Agency reported in April.
Xi's campaign has also pursued graft in state-owned enterprises, and Jiang was targeted soon after being appointed minister of State-owned Assets Supervision and Administration Commission, the government agency that oversees 53.7 trillion yuan in state assets.
In a separate ruling Monday in a different court in Hubei, Li Chuncheng, the former deputy party chief in China's western Sichuan province, was sentenced to 13 years in jail for bribery and abuse of power. Li, who was also an aide to Zhou Yongkang, was one of the first officials to be targeted by Xi. He was detained in December 2012, a month after Xi came to power and his arrest helped build the case against Zhou.
For more, read this QuickTake: Corruption
Before it's here, it's on the Bloomberg Terminal.
LEARN MORE