RWE, EON Jump Most Since 2008 on Atomic Stress Test Pass
by and
Reserves `competely reflect' nuclear decommissioning: Ministry

Investors had anticipated worst case: Union Investment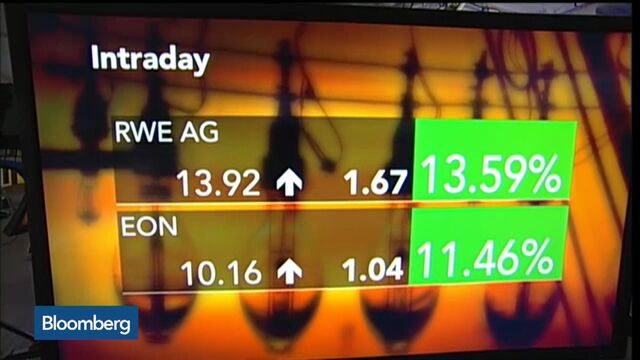 RWE AG and EON SE jumped the most since 2008 in Frankfurt trading after the German Economy Ministry said the nation's utilities have enough funds to pay for the shutdown and cleanup of nuclear power plants.
RWE gained as much as 15 percent and EON rose as much as 12 percent, while bonds of both utilities gained to the highest in a month. Total reserves set aside by EON, RWE, Energie Baden-Wuerttemberg AG, Vattenfall AB and Stadtwerke Muenchen GmbH totaling 38.3 billion euros ($43.6 billion) "completely reflect the costs" of decommissioning nuclear reactors, Economy Minister Sigmar Gabriel said on Saturday in an e-mailed statement.
Shares in EON and RWE, Germany's biggest power generators, fell 33 percent and 48 percent this year on concern provisions for decommissioning nuclear plants may prove insufficient. That came as the two companies have seen revenue drop after a shift to renewable energy and an economic slowdown resulted in slumping wholesale electricity prices, with the benchmark year-ahead contract at its lowest for the time of year since 2008.
"International investors had obviously started to anticipate the worst-case scenario," Thomas Deser, a fund manager at Union Investment, which holds EON and RWE shares, said by telephone. The share prices of both utilities "will find a new balance," he said.
Nuclear Closures
RWE closed up 9.4 percent at 13.395 euros in Frankfurt after earlier climbing as high as 14.085 euros. EON closed up 5 percent at 9.562 euros after reaching 10.24 euros.
RWE's 550 million euros of 3.5 percent hybrid securities jumped 4 cents on the euro to 83 cents, the highest in more than a month, according to data compiled by Bloomberg. EON's 700 million pounds ($1.07 billion) of 6.75 percent bonds maturing in 2039 rose 3 pence on the pound to 128 pence, the highest in a month, the data show.
German electricity for delivery next year is trading near a 12-year low. The benchmark contract fell 1 percent to 29.09 euros a megawatt-hour on the European Energy Exchange on Monday. It reached 28.75 euros on Oct. 2, the lowest price since September 2003.
Nuclear Phase-Out
Chancellor Angela Merkel's government decided in 2011 to phase out nuclear power by 2022 in light of the Fukushima disaster in Japan. Different scenarios associated with the decommissioning process result in a range of necessary provisions from 25 billion euros to 77 billion euros, the ministry known as BMWi said Saturday, due to factors such as interest and cost increases, referring to a study by auditing company Warth & Klein Grant Thornton AG it commissioned.
"We consider scenarios with high provisions improbable," Gabriel said. EON, RWE, EnBW and Vattenfall said in a joint e-mailed statement that such scenarios are "unrealistic and have never been used in any sector."
As a next step, the German government will adopt a draft law on extended liability for nuclear plants and waste, as well es establishing a commission for the review of the financing of the nuclear phase out, Gabriel said.
Cash funds or ring-fenced assets for nuclear liabilities are expected to become a requirement and feature in the nuclear commission's recommendations, Ingo Becker, an analyst at Kepler Chevreux, said Monday in an e-mailed note.
"Investors and other stakeholders must understand that cash funding will put both companies in handcuffs," Becker said. "Don't let anyone tell you that now all is good."
'Overhang Risk'
RWE may need to raise equity if it has to fund liabilities or sell some of its assets, while "EON can fund its existing nuclear commitments without needing to raise equity," Bank of America Merrill Lynch analyst Peter Bisztyga said Sunday in an e-mailed note, reiterating the buy rating for EON and upgrading RWE to neutral.
"The tone of the comments from the BMWi suggest to us that there is no immediate appetite to require the companies to either increase or to overfund their liabilities," he said. "We think that this removes a significant overhang risk, and should allow the shares to recover further."
Before it's here, it's on the Bloomberg Terminal.
LEARN MORE