Don't Mention the EU If You Want to Keep the U.K. in the Bloc
Robert Hutton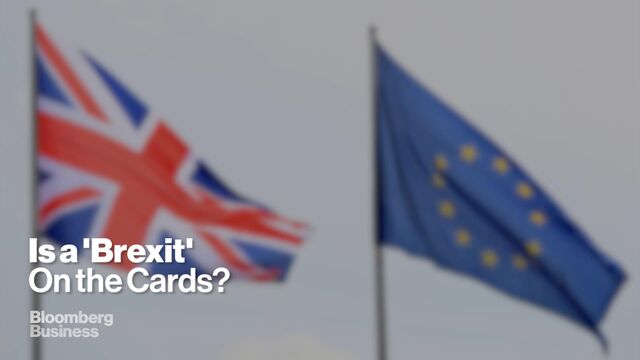 The first rule of the campaign to keep Britain in the European Union is: You do not talk about the European Union.
At the launch of the "In" campaign in central London on Monday, the talk was all of "Europe," with mentions of the EU minimized. "Those who want us to leave Europe would risk our prosperity," said the campaign's chairman, Stuart Rose. "We can reform Europe by leading in Europe."
Prime Minister David Cameron has begun a renegotiation of Britain's terms of membership of the EU and has pledged to put the results to a referendum by the end of 2017. Two rival campaigns have formed to promote a vote to leave.
"The EU is a specific and particular institution that comes in for a lot of abuse," Rob Ford, lecturer in politics at Manchester University, said in an interview. "Europe is a much fluffier concept. Talking about leaving Europe conjures up images of being hauled away from spaghetti in the Tuscan hills."
While the "In" campaign's executive director, Will Straw, told reporters there had "absolutely not" been an instruction to the speakers to avoid talking about the EU, U.K. Independence Party leader Nigel Farage, who backs a British exit from the bloc, said it was "intellectually dishonest" not to talk about the EU.
'Defending Indefensible'
"They know that the issue is the European Union, not Europe," he said in an e-mailed statement. "Who could have a complaint with a continent? A land mass? But they also know that if they are honest, they will be defending the indefensible. So they start their campaign with an untruth."
Laura Sandys, the chair of the European Movement, which has been working with the "In" campaign, e-mailed supporters of the Students 4 Europe group Sept. 24 to urge them: "Can we always talk about Europe rather than EU."
Sandys said her e-mail referred to branding for a leaflet rather to a more general message, though she also said she uses different language about the EU depending on what she's talking about.
"I talk a lot about having influence in one's neighborhood and about having influence in Europe," she said in a telephone interview.
The "In" launch, titled "Britain Stronger in Europe," borrowed from 2014's successful campaign against Scottish independence by playing up the dangers of leaving the 28-member trading bloc.
Rose, the former chief executive officer of Marks & Spencer Plc, said it would be a "leap in the dark."
Hugh Orde, a retired senior policeman, said it would make cooperation with foreign forces harder. "If I was a villain somewhere else in Europe and I was escaping justice, I would be coming here because it's going to take a lot longer to get you back," he said.
Before it's here, it's on the Bloomberg Terminal.
LEARN MORE