Belarus Leader Extends Rule as Observers Cite Shortcomings
by
Lukashenko, in power since 1994, receives 83.5% of vote

Russia, EU, U.S. vie for influence in former Soviet republic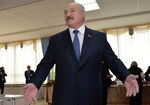 Alexander Lukashenko extended his rule in Belarus into a third decade, crushing opponents in a presidential election that won praise from Germany but condemnation from international observers.
Lukashenko, 61, received 83.5 percent of Sunday's vote, enough to avoid a runoff, the central election commission's head, Lidia Ermoshina, said in a televised news conference in the capital, Minsk. German Foreign Minister Frank-Walter Steinmeier credited the incumbent with freeing political prisoners and refraining from a pre-election "crackdown" as often happened during his 21-year reign, signaling a potential thaw in relations with the European Union.
Wedged between Russia and Poland, Belarus is at risk of becoming another geopolitical battleground as the Kremlin wrangles with its former Cold War rivals from Ukraine to Syria. A policy shift may provide an opening for Lukashenko, Europe's longest-serving leader. He campaigned with the goal of "normalizing" ties with the U.S. and Europe, while the Organization for Security and Cooperation in Europe criticized his government for breaches in the voting process.
"Belarus still has a long way to go toward fulfilling democratic commitments," Kent Harstedt, head of the short-term OSCE observer mission in Belarus, said during news conference in Minsk on Monday. "It is not acceptable to keep observers far away from the counting place, or that the table where the counting takes place is hidden from view by people who are counting the votes so that observers have not a chance to see what's going on."
Ruble, Bonds
Demand for Belarusian assets is returning after the rout that swept emerging markets in August. Its national currency, this year's second-worst performer globally after Zambia's kwacha, strengthened more than 3 percent against the dollar last week. The ruble traded 0.2 percent weaker at 17,202 versus the dollar as of 5:48 p.m. in Minsk. Dollar-denominated government debt due 2018 gained, sending the yield down 12 basis points to 8.3 percent.
EU foreign ministers said they are committing to suspend sanctions on Belarus following the release of political prisoners there earlier this year and an election that was more transparent and calm than previous ones, the Associated Press reported, citing France's secretary of state for European affairs, Harlem Desir. Sanctions will be suspended for the next four months and can be put in place again "immediately" if justified, it cited Desir as saying.
Belarus, which has struggled to remove penalties imposed by the EU and the U.S., has tried to improve relations by releasing all political prisoners earlier this year. Currently, 175 people including Lukashenko and 14 organizations are subject to EU asset freezes and travel bans for human-rights violations.
West's Wishes
"Everything that the West wished, everything that it wanted to see on the eve of the presidential elections in Belarus, I confess frankly, we did it all," Lukashenko said after casting his vote at a polling station in Minsk, according to his press service. "If the West has any intention to develop relations with us, nobody and nothing stands in its way."
European foreign ministers will assess "under what conditions, what timetables sanctions against Belarus can be changed or suspended," Steinmeier told reporters on Monday before an EU meeting in Luxembourg. A decision is due by Oct. 31.
Lukashenko has had to walk a fine line as a separatist insurgency in Ukraine and sanctions against Putin's government roiled the region. Belarus, which like Russia is a member of the Eurasian Economic Union, is attempting to hedge its bets as it looks to rev up an economy that the International Monetary Fund predicts will contract the most of any ex-Soviet state in 2016.
Merkel, Lagarde
Diplomatic relations with the U.S. and its allies have intensified this year, highlighted by the Ukraine peace conference in Minsk attended by German Chancellor Angela Merkel in February. French President Francois Hollande also attended the truce talks, along with Russian President Vladimir Putin and Ukrainian leader Petro Poroshenko.
As Belarus seeks a $3 billion credit from the Russian-led Eurasian Fund for Stabilization and Development, Lukashenko said he'd already secured $7 billion in loans from China and met with IMF chief Christine Lagarde last month to discuss a possible new program.
Putin congratulated Lukashenko on his victory, which he said demonstrated the Belarusian leader's "political standing and trust from the population. Putin expressed confidence that Lukashenko will further contribute to developing the two nations' "strategic partnership," according to a statement issued by the Kremlin.
Lukashenko's Challengers
Unlike the last presidential ballot in 2010, which drew thousands of the regime's opponents to the streets of Minsk, no major protests flared this time. Several hundred people rallied in the capital against what they said was yet another instance of Lukashenko "stealing their votes."
Pro-democracy political newcomer Tatiana Korotkevich, the first woman ever to run for the presidency in Belarus, was the closest challenger with 4.4 percent of the vote. Sergei Gaidukevich, who unsuccessfully ran in previous elections, got 3.3 percent and self-described "cossack" Nikolai Ulakhovich received 1.7 percent, while 6.4 percent of voters chose the "against all" option, Ermoshina said. Turnout was 86.8 percent, the electoral commission said on its website.
Before it's here, it's on the Bloomberg Terminal.
LEARN MORE