AB InBev Distributors Draw U.S. Scrutiny Before Deal Review
by and
Federal and state authorities examine distribution deals

Antitrust approval may require AB InBev to cede distribution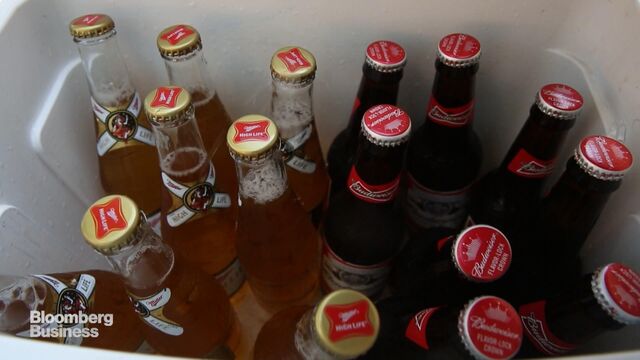 Anheuser-Busch InBev NV's distribution power in the U.S. is drawing government scrutiny as the brewer seeks antitrust approval to buy SABMiller Plc, an indication the company may need to cede control over how beer gets on shelves.
The Justice Department's antitrust division, which has been skeptical of past attempts to consolidate brewers, will probably require AB InBev to sell SABMiller's MillerCoors joint venture to preserve competition, lawyers say. The government will also probably require the company to give up control over MillerCoors distribution, said Jennifer Rie, an analyst at Bloomberg Intelligence. Antitrust authorities may also prohibit AB InBev from penalizing distributors that carry rivals' products, Rie added.
"You may sell a brand but the brand has to have access to distribution to get in the store and get on shelves and get to consumers," Rie said. "Access to good distribution is important because otherwise it hinders your ability to compete."
AB InBev said in a statement it would commit to try to obtain any regulatory clearances required to close the transaction.
Fielding Questions
The maker of Budweiser is in discussions with the Justice Department and the California attorney general's office about a plan to acquire two distributors in the state, deals that would give the beer giant more heft in California and potentially put pressure on craft brewers.
AB InBev said last month it was acquiring Horizon Beverage Co.'s distribution business in Oakland, as well as the Anheuser-Busch distribution rights from ME Fox & Co. in San Jose. At the time, the brewer said it expected the two transactions to close in November. On Monday, AB InBev said it was fielding questions on the deals from the Justice Department and California.
Kristin Ford, a spokeswoman for California Attorney General Kamala Harris, declined to comment on the distributor discussions. The company said in an e-mailed statement that it was cooperating with the attorney general and the Justice Department "to address any questions they have." Peter Carr, a Justice Department spokesman, declined to comment.
The U.S. review of the $106 billion combination will be led by Bill Baer, the head of the department's antitrust division, who sued to block AB InBev's takeover of Grupo Modelo SA in 2013. The government dropped the complaint after AB InBev agreed to sell Modelo's entire U.S. business to Constellation Brands Inc. The government also imposed requirements to limit AB InBev's ability to interfere with Constellation's distribution of Modelo labels.
Craft brewers are worried that a consolidated beer market could mean it's harder to get their brands into bars and retailers.
A market "free from undue influence from the largest supplier" is key to ensuring choice for beer drinkers, said Paul Gatza, director of the Brewers Association, which represents the craft industry.
Top Positions
Together, AB InBev and SABMiller will be the world's largest consumer-staples company by earnings, according to Exane BNP Paribas analysts. The enlarged brewer will have the No. 1 or 2 positions in 24 of the world's 30 biggest beer markets, they estimate.
Reuters reported on the California discussions earlier, saying the Justice Department was probing allegations that the deals would make it harder for craft brewers to compete. The company said last month that it would keep distributing local beers if the transactions went through.
"We are working out all the details, but plan to keep several local craft beers in our portfolio, pending supplier approval," Bob Tallett, vice president of business and wholesaler development for Anheuser-Busch, said in a statement in September.
Before it's here, it's on the Bloomberg Terminal.
LEARN MORE