U.K.'s EU-Exit Battle Lines Harden With Renegotiation in Sight
by
Government has four key demands, Sunday Telegraph reports

Prime Minister has pledged referendum before the end of 2017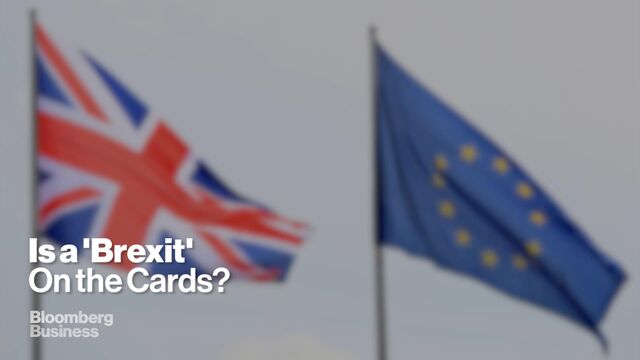 Battle lines hardened on Sunday over the U.K.'s membership of the European Union, with a newspaper reporting that the government is seeking compromise on four points to stay inside the 28-member bloc.
Prime Minister David Cameron will negotiate for explicit pledges on the status of the pound and London's financial district before the in-or-out referendum he's promised to hold by the end of 2017, the Sunday Telegraph reported. The plan, which didn't mention free movement of people or a limit on benefits, was branded as vague by those campaigning to exit.
Cameron, who wants to keep Britain in the EU, has said he's confident he can strike a deal with Brussels that will make remaining in the bloc palatable to voters. After winning a surprise majority in May's general election, he's faced strong opposition from euro-skeptics inside his party and has agreed to let party employees work for either side of the debate.
The government wants an "explicit statement" that Britain will be kept out of any European super-state and a system that would allow national parliaments to scrap EU laws, according to the Sunday Telegraph. It also wants future protections for the pound and the City of London, the newspaper reported.
The vague demands are "laughable" and Britain can do more if it exits the bloc, property entrepreneur Richard Tice, who is campaigning for an exit, said in a BBC television interview on Sunday.
Nigel Farage, leader of the U.K. Independence Party, told Sky News that Britons don't want to stay in an EU without border controls.
"What the British government is asking for, frankly, is nothing," Farage said. "There is no renegotiation."
As Cameron's promised referendum nears, both sides of the debate are building their teams and stating their case. Business leader Stuart Rose will chair a campaign to keep Britain inside the bloc and the House of Commons Treasury Committee said on Saturday it's started an inquiry into the costs and benefits of EU membership.
Sensible Points
Former Conservative Chancellor of the Exchequer Kenneth Clarke told the BBC he thought Cameron's four points were sensible and achievable. He said campaigners needed to address "the big argument about our long-term national interest" as well as what they'd managed to negotiate from Brussels.
"Our economy thrives because we're in the single market," Clarke said in the BBC interview. "And we're a member, so we influence how that market develops."
In an interview with the Telegraph Olivier Blanchard, former chief economist of the International Monetary Fund, said he believes leaving the EU will damage Britain's economy and financial sector and be costly to Europe too.
"I can see how some people are very fed up with Brussels, but that would be a very superficial reaction to just leave Europe because there are technocrats that you don't like," Blanchard said, according to the interview.
Before it's here, it's on the Bloomberg Terminal.
LEARN MORE