Turkey Bombs PKK After Ankara's Deadly Blasts as Unrest Persists
by and
Bombings follow declaration of unilateral cease-fire by PKK

Turkey focus stays on Kurdish militants in terror offensive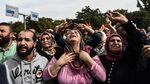 Turkey's military said it killed dozens of Kurdish separatists hours after explosions in Ankara left at least 97 people dead, making good on the government's vow to continue attacking the group even after it was reported to have declared a unilateral cease-fire.
Thirty-five members of the Kurdistan Workers' Party, or PKK, were killed when fighter jets targeted their bases in northern Iraq, state-run Anadolu news agency reported on Sunday. Another 14 died in airstrikes in Turkey's largely Kurdish Diyarbakir province, the military said in a statement. Two soldiers and a policeman were killed in the operations, Hurriyet newspaper reported, while clashes broke out between police and protesters in Turkish cities.
The violence leaves Turkey in the throes of deepening domestic unrest three weeks before a general election. Authorities have said the carnage in Ankara, for which no one claimed responsibility, could be the work of Islamic State militants who are battling allies of the PKK in Syria. Police are analyzing DNA samples from the families of 16 suspects, according to Hurriyet.
'Dangerously Divided'
The targeting of a march calling for peace with Kurds undermines chances of a halt in violence before the Nov. 1 vote. "The attack appears likely to exacerbate the already deep cleavages in an already dangerously divided society," said Wolfango Piccoli, managing director at Teneo Intelligence, a London-based political risk consultancy.
Violence flared up after the country's inconclusive general elections in June ended the single-party rule of the AKP, the party co-founded by President Recep Tayyip Erdogan. The pro-Kurdish HDP party won enough votes to enter the assembly for the first time, helping to deny the AKP a majority. The unrest has undermined investor confidence in the economy, making the lira the second-worst performing currency in emerging markets this year.
Turkey started bombing PKK targets in Iraq in July after dozens of activists, mostly Kurds, were killed in a suicide bombing in the town of Suruc. The attack, which was blamed on a militant with ties to Islamic State, also triggered Turkish attacks on the al-Qaeda breakaway group.
Cease-Fire
In an interview with ATV television on Friday night, Prime Minister Ahmet Davutoglu dismissed any talk of a unilateral cease-fire by the PKK as a political stunt and said operations against the group would continue until it abandoned weapons completely. The group announced a cease-fire the following day, as expected, saying it would refrain from attacks until the elections as long as its "guerrilla forces" didn't come under attack.
Turkish security forces arrested 50 Islamic State suspects in a raid against the group in five provinces after a lengthy period of surveillance, T24 news website reported on Sunday, citing a police statement. It was not immediately clear if the raids were connected to the Ankara bombing.
Deeper involvement in Syria exposes Turkey to a conflict that has already drawn in regional and global powers. Russia began a bombing campaign this month to shore up President Bashar al-Assad, the Syrian leader Ankara is bent on ousting.
Nov. 1
Yet Erdogan's critics have accused the president of using the fight against Islamic State as a cover for his crackdown on the Kurds to help the AKP regain a parliamentary majority. That would in turn enable him to amend the constitution to shift the center of power from parliament to his office.
"Turkey is now facing a toxic mix of political polarization, government instability, mounting domestic and external security challenges, economic slowdown and questionable macro-economic policy while being held hostage by Erdogan's interests and agenda," Piccoli said.
The PKK, which has been locked in an armed struggle with Turkish authorities for about 30 years, is classified as a terrorist organization by Turkey, the U.S. and the European Union.
Selahattin Demirtas, HDP's co-chair, said supporters should respond to the violence at the ballot box.
"We shall not act out of revenge or hatred; we say violence should not beget more violence," he said, speaking at a memorial event in Ankara on Sunday. "But we will seek to hold people accountable. Nov. 1 is the first step in that," he said.
Before it's here, it's on the Bloomberg Terminal.
LEARN MORE