Singapore, Malaysia Fly in Planes to Fight Indonesia's Haze
by and
Attempts to put out fires to be concentrated in South Sumatra

Indonesia's Widodo, Malaysia's Razak to meet on Sunday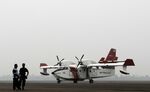 Singapore and Malaysia have sent aircraft to Palembang in South Sumatra to help Indonesia fight forest fires in parts of the country, which have caused haze and deteriorated air quality in neighboring nations.
Singapore has dispatched a Chinook helicopter and a Hercules plane, while Malaysia flew in a CL415 Bombardier with a flight crew of 12 people to extinguish the fires over the next two weeks, Sutopo Purwo Nugroho, spokesman for Indonesia's National Agency for Disaster, said in a text message Saturday. The Malaysian team will be based in Pangkal Pinang in the neighboring Bangka-Belitung islands, he said.
Seven helicopters and three aircraft from Indonesia, Singapore and Malaysia are "conducting water bombing" in South Sumatra, while a CASA aircraft will be used for "cloud seeding," an attempt to change cloud precipitation, Nugroho said by text messages on Sunday. There were 726 hotspots in Sumatra and 182 in Kalimantan on Indonesia's Borneo island on Sunday, Nugroho said separately in a Twitter post. A total of 1.7-million hectares of Indonesian land and forests have been affected so far, he said.
Indonesia has accepted help from its neighbors, including Australia, to put out the fires that drove air quality in Singapore to levels described as "hazardous" and caused haze as far away as Thailand. Indonesia plans to extinguish all fires burning in different parts of the country within two weeks, with help of neighboring countries, Channel News Asia on Saturday cited President Joko Widodo as saying.
Singapore has also sent 34 personnel from its armed forces and a six-man rescue team from its civil defense forces after Indonesia agreed to take up the city-state's offer to help put out the fires, according a statement released by the Singapore government on Saturday. Earlier this week, Singapore sent a formal request to Indonesia for names of companies held responsible for the forest fires.
Widodo-Razak Meeting
A concentration of fires in parts of Indonesia's Sumatra and Kalimantan drove Singapore's air quality to unhealthy levels since early last month. Singapore's hourly pollution index rose to more than 300 on Sept. 25, indicating a hazardous level, according to the National Environment Agency's website.
Malaysia expressed deep concern about the recurring haze situation in the region and sought Indonesia's assurances that it would address the land and forest fires effectively, Malaysia's foreign ministry said in an e-mailed statement Saturday. Indonesian President Widodo is due to meet with Malaysian Prime Minister Najib Razak in Bogor, West Java on Sunday.
"We welcomed Indonesia's on-going efforts to address land and forest fires in Sumatra and Kalimantan including bringing the perpetrators to justice," according to the statement.
Malaysia reopened three of its airports earlier last week after they were forced to close from the deteriorating haze, Malaysia Airports Bhd. said in a tweet.
Seven provinces in southern Thailand were affected by the haze, including the resort island of Phuket, according to the nation's Department of Disaster Prevention and Mitigation.
Australia announced on Saturday that it was sending a Hercules air tanker and a rural firefighting team. The Australian team will arrive in South Sumatra on Sunday, while a Hercules plane that can carry 15 tons of water will fly in on Tuesday or Wednesday, Nugroho said.
Before it's here, it's on the Bloomberg Terminal.
LEARN MORE