business
Modi's India Reform Push Hangs in Balance as Bihar Starts Voting
By and
State election victories are key to controlling upper house

Results will be known on Nov. 8 after five phases of voting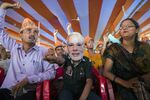 Indian Prime Minister Narendra Modi's most crucial political test this year begins on Monday in a state with more people than Germany.
In five phases over the next four weeks, voters in Bihar will cast ballots to elect the next legislative assembly in a state economy that has seen growth surge in recent years from a very low base. For many, the election boils down to a simple question: Can Modi do more to lift the state out of poverty than current leader Nitish Kumar?
The vote in Bihar is important for Modi's efforts to control India's upper house, where opposition lawmakers have blocked key economic proposals such as a nationwide sales tax that would make the country a single market. A win would give him momentum in about a dozen more state elections through 2017 that will determine control of the body.
"It would be a positive for the markets if he wins, and a negative if he loses because it will be seen as difficult for him to pass through legislative reforms," said Madan Sabnavis, chief economist at the Mumbai-based Credit Analysis & Research Ltd. "A loss could also mean the government could be losing its charisma and signal further losses in the state elections to follow."

Modi's promises of all-inclusive economic growth propelled his Bharatiya Janata Party to victories in last year's national election and four of five other states over the past two years. Yet that strategy might not work against Kumar, who boasts a solid record of growth in Bihar and is confident he'll win when results are announced on Nov. 8.
Under Kumar, Bihar's economic expansion has averaged more than 10 percent a year, exceeding the national rate. Kumar's supporters credit him with restoring law and order to Bihar and providing residents with roads, electricity and food.
"Nitish is essentially considered to be backward and poor friendly while doing a lot to change the fortunes of the state," said Shaibal Gupta, who runs two development research centers in Bihar's capital city Patna, including one formed with the government. "Growth rates under him have been quite high and ultimately poverty has been reduced in a substantial manner. That record is what Modi has to overcome."
The BJP has improved in almost every Bihar election since the party's inception in 1980, culminating with 37 percent of seats in the 2010 vote. It was part of a coalition government in the state from 2005 to 2013, when Kumar .
In the current campaign, Kumar has joined with former rival Lalu Prasad to lead a tag-team coalition of Bihar's two most popular chief ministers in the last two decades. They draw support from a loyal bank of voters who cast ballots based on caste, India's stratified social system in which people are labeled by last name.
$19 Billion Package
To win, the BJP is seeking to discredit Kumar's role and claim his achievements as their own. During the eight years Kumar ruled Bihar in alliance with the BJP, the state's economy grew by as much as 16 percent. Since then, Bihar's expansion has slowed to 9 percent, still among the fastest in India.
"Everything Nitish achieved was because of the NDA," said Giriraj Singh, a member of parliament from Bihar and part of Modi's cabinet, referring to the National Democratic Alliance formed between the BJP and Kumar's Janata Dal (United) party. "And when we cut ties, Bihar suffered. Voters must understand that is what will happen if Nitish is allowed to come back to power."
Modi's been throwing resources at Bihar this year at a record pace, while addressing about 10 rallies himself in the last two months. In August, Modi attended a pair of events and pledged $19 billion in aid to Bihar, one of India's largest development packages to the impoverished state.
Polls Inconclusive
Most of the 10 opinion polls released since September have been split. In the three days leading up to the first phase of voting, two polls projected Kumar's alliance winning a majority, while one projected a victory for Modi's BJP-led coalition by three seats. The winning party or coalition appoints a chief minister to run the state.
The BJP's secret weapon may be Jitan Ram Manjhi, who comes from a lower caste known for eating rats. Manjhi allows the BJP to win votes from lower castes while simultaneously pushing their development goals.
"The poor are still deprived in Bihar, even now, even after more than a decade of growth," said Manjhi, who served as chief minister of Bihar for nine months in 2014-2015. "If the BJP is in Bihar, the same government that's in the center, they will run together. That will benefit everyone socially and economically."
— With assistance by Tom Lasseter, and Jeanette Rodrigues
Before it's here, it's on the Bloomberg Terminal.
LEARN MORE