Martin O'Malley at Odds With Hillary Clinton on Syria No-Fly Zone
"Secretary Clinton's always quick for the military intervention," he says.
By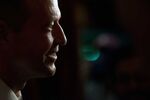 Democratic presidential candidate Martin O'Malley on Sunday said he is not in favor of establishing a no-fly zone in Syria, putting him at odds with front-runner Hillary Clinton. 
"I believe that a no-fly zone right now is not advisable, and this is why: No-fly zones sound attractive, but no-fly zones also have to be enforced, and given the fact that the Russian air force is in the air space over, over Syria, this could lead to an escalation of Cold War proportions because of an accident, and I don't think that's in the best interest of the United States. There are many fights in this world. Not every fight is our fight," the former Maryland governor said, appearing on CNN's State of the Union.
O'Malley's stance on the issue puts him in line with rival Bernie Sanders ahead of the first Democratic presidential debate on Tuesday.
"We must be very careful about not making a complex and dangerous situation in Syria even worse," Sanders said in a statement last week. "I support President Obama's efforts to combat ISIS in Syria while at the same time supporting those in that country trying to remove the brutal dictatorship of Bashar Assad."
O'Malley prefaced his answer on the no-fly zone with what may have been a slight dig at Clinton, painting her as hawkish. 
"Secretary Clinton's always quick for the military intervention," he said. 
In early October, Clinton said she favored a no-fly zone as a way to help ease the fighting in Syria and stem the flow of refugees streaming out of the war-torn nation. 
"I personally would be advocating now for a no-fly zone and humanitarian corridors to try to stop the carnage on the ground and from the air, to try to provide some way to take stock of what's happening, to try to stem the flow of refugees," Clinton told Boston's WHDH in an interview.