ECB Stimulus Talk Pledges Euro-Area Shield From Global Gloom
by
Policy makers in Lima signal no need yet to discuss QE boost

Draghi says he's reassured about direction of Chinese policy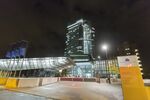 Mario Draghi is reminding the world that the euro area has a trillion-euro comfort blanket.
While some major central banks feel the chill of a global emerging-market slowdown over their plans to tighten policy, the European Central Bank president has at least 700 billion euros ($795 billion) out of a slated 1.1 trillion euros still to spend in his quantitative-easing program. ECB officials are quietly indicating they'll let the current program take its course for now, while saying repeatedly that they're ready to do even more if needed.
At the International Monetary Fund's annual meeting in the Peruvian capital of Lima over the weekend, delegates see-sawed between gloom that economic woes from Beijing to Brazil would derail world output, and optimism that reality will undershoot the worst fears. After listening to Chinese policy makers explain how risks to their economy will be managed and growth above 6 percent per year secured, Draghi said he was "reassured" that everything is under control.
"When the risks are to the downside, everyone starts focusing on that and there's a danger of it being self-fulfilling," Paul Sheard, chief global economist at Standard & Poor's, said in an interview in Lima. "But the ECB is saying 'we're not putting a limit on QE, we're not stopping until we achieve our objective.' If they don't do anything, the balance sheet still expands."
Fed, BOE
Not all advanced-economy central banks have it so easy. Facing pressure to normalize policy in anticipation of inflation yet to come, U.S. Federal Reserve Chair Janet Yellen and Bank of England Governor Mark Carney may yet have to postpone interest-rate increases because of the headwinds from emerging markets. Carney, also speaking in Lima, said this isn't a "type of economy in which one can make mistakes."
On Oct. 6, the IMF cut its global growth outlook for this year to 3.1 percent from a July forecast of 3.3 percent, and downgraded next year's estimate to a 3.6 percent expansion from 3.8 percent. Even so, while warning about the "cross border repercussions" of slowing Chinese growth, the IMF left its outlook for the world's second-largest economy unchanged at 6.8 percent this year and 6.3 percent for 2016.
Stable Growth
The euro area's performance, though modest, has at least been stable. Output expanded 0.4 percent in the second quarter after growing 0.5 percent in the previous three months. Yet with the inflation rate dipping below zero in September, Draghi is having to combat the impression that the asset-purchase plan he started in March isn't working. The ECB forecasts that price gains will only return to the goal of just under 2 percent around the end of 2017.
"Faced with a number of challenges to world growth, the euro-area economy has shown some signs of resilience," Draghi said at a press conference on Oct. 9. On China, he said he was aware that the nation is attempting a "complex policy change" from investment-led to consumer-led growth.
Figures published over the weekend showed that China's restaurant, cinema and travel sales surged in the 'Golden Week' national holiday, an indication that robust household spending remains a prop for the slowing economy.
"What we learned during these two days both from the IMF's management and the Chinese authorities was a balanced and all-in-all reassuring presentation," Draghi added. That said, he repeated to IMF delegates that should greater risks materialize, the ECB is "ready to use all the instruments available within our mandate to act, if warranted, in particular by adjusting the size, composition and duration of the asset-purchase program."
More Stimulus
More than two-thirds of economists surveyed by Bloomberg last month said policy makers will have to do just that. ABN Amro Bank NV and Barclays Plc are among market participants who've said they expect the ECB to add to the level of stimulus already announced, either through increasing the monthly purchase level of 60 billion euros or by extending the program into 2017.
That view isn't so strongly rooted among the members of the ECB's Governing Council. Draghi himself, while holding out the possibility of more action, is among at least 11 council members who have either argued against rushing to shift policy now or even discussing options at the next meeting in Malta on Oct. 22.
Executive Board members Benoit Coeure and Sabine Lautenschlaeger struck a similar chord.
"We don't have enough information right now to fully understand the underlying trend," Lautenschlaeger said in an interview in Lima. "From my point of view, it is really premature to talk about concrete measures in terms of broadening quantitative easing."
"It's premature to discuss it, but it's certainly our duty to be prepared to cope with all kind of contingencies," Coeure told CNBC. "If anything would happen, we want to know what we would do," he said, adding that "it's too early to pass that kind of judgment."
Lithuanian Governing Council member Vitas Vasiliauskas also spoke against expanding QE at the present stage.
"My message is very clear: There is no need for any additional measures," he said in an interview with the Wall Street Journal published Monday. "For the moment, I don't see any need for additional stimulus, additional fine-tuning of the program."
More clues may come when Governing Council members from Austria, Estonia and Slovenia speak at a conference in Warsaw this week.
Balancing Act
While the ECB figures out whether slower global growth and lower commodity prices pose an existential challenge to their inflation goal, officials will attempt to maintain the balancing act of talking about action while dragging their feet on actually taking it. Anything else would torpedo confidence in ECB policy, according to Janet Henry, global chief economist at HSBC Holdings Plc.
"Central banks can't afford to give any hint that they've maxed out monetary policy," Henry said in an interview in Lima. "There always has to be some more in the tank, because policy works through expectations. That also means that they have to deliver eventually."
Before it's here, it's on the Bloomberg Terminal.
LEARN MORE