Israel Approves Tougher Sentences to Restrain Arab Violence
by and
Pregnant woman, daughter killed in Israeli airstrike on Gaza

Israeli policeman injured in bombing, attacker badly wounded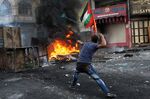 Israel approved harsher measures meant to quell a surge in Arab shooting and stabbing attacks that have killed four Israelis this month. Polls show widespread public dissatisfaction with the government's handling of the mounting violence.
The Israeli cabinet on Sunday approved minimum sentences of four years in prison for people convicted of throwing stones or firebombs, and the fining of parents of minors convicted of security offenses. The government has already relaxed rules governing the use of live ammunition by security forces, and expedited the demolition of homes of Palestinians convicted of terrorist offenses.

"We are doing this as an emergency measure and will consider the extent of its implementation; if need be, we will make the law more severe," Prime Minister Benjamin Netanyahu said at the cabinet meeting. The measure would have to be approved by parliament and may face a challenge in Israel's highest court.
The violence is some of the deadliest between Israelis and Palestinians since last year's war in the Gaza Strip. Twenty-four Palestinians have also been killed this month in the bloodshed, fueled by contesting claims to a Jerusalem hilltop compound revered by Jews as the site of their biblical temple and by Muslims as the home of the al-Aqsa mosque, Islam's third-holiest site.
Outside Ramallah late Sunday, soldiers fired rubber-coated bullets at rock-throwing protesters and killed a 13-year-old Palestinian who was hit in the head, the Palestinian Heath Ministry said in an e-mail. An Arab citizen of Israel stabbed four Jews, at least two of them soldiers, at a shopping center near the northern city of Hadera, police said in a text message.
Deadly Airstrike
Israeli stocks fell as the unrest deepened. The TA-25 Index closed 0.2 percent lower, after declining as much as 0.6 percent, and p.m. local time and declines in government bonds sent yields up for the first time in more than a week.
The Palestinian Authority requested an urgent meeting of the Arab League on Tuesday to discuss what it called "continued Israeli aggression" in the Palestinian territories and at the Jerusalem shrine.
In the latest violence, a pregnant Gaza woman and her 4-year-old daughter were killed when their house collapsed from the impact of an Israeli airstrike on a nearby post of the militant Hamas movement that rules the territory, according to Ashraf al-Qedra, spokesman for the Gaza health ministry.
Rocket Attack
The military said it ordered airstrikes against two Hamas weapon manufacturing facilities in response to the second rocket attack on southern Israel from Gaza in two days. The rocket was intercepted Saturday night by the Iron Dome missile defense system.
Hours later, a Palestinian woman set fire to a gas canister in her car after an Israeli policeman stopped her vehicle in the West Bank near Jerusalem, Israeli police spokeswoman Luba Samri said. The officer was slightly wounded and his attacker was badly hurt, she said.
West Bank Clashes
Clashes between Israeli soldiers and Palestinians throwing rocks broke out in several locations across the West Bank, including Nablus, Hebron and Ramallah, Palestinian television reported.
The unrest has also spread to Arab communities within Israel, with demonstrations in towns including Nazareth and Ramla turning violent at times. Israeli Arab groups called for a commercial and school strike beginning Tuesday, Israel Radio said, to protest what they call the government's intentions to change rules governing worship at the Jerusalem holy site known to Jews as the Temple Mount and Muslims as the Noble Sanctuary.
Netanyahu has declared Israel has no intention to change the status quo at the shrine, and accuses Islamist groups, Palestinian President Mahmoud Abbas, and Israeli Arab lawmakers of inciting violence over the issue. At Sunday's cabinet meeting Netanyahu said he had asked the attorney-general to investigate Arab legislator Hanin Zoabi for alleged incitement, saying she urged Palestinians to confront Israelis at the site.
Public Dissatisfied
A majority of Israelis think Netanyahu is doing a poor job handling the surge in violence, and some think his hardline political rivals would do better, two new polls show.
A poll for Channel 2 television, broadcast Saturday night, showed that 73 percent of respondents were either completely or "quite" dissatisfied with the prime minister's performance.
Netanyahu, at 15 percent, was ranked third-best suited to handle the security crisis. He trailed former Foreign Minister Avigdor Lieberman, who takes a tough stand against concessions to the Palestinians, and Jewish Home chief Naftali Bennett, whose party opposes the establishment of a Palestinian state. The poll surveyed 501 people and had a margin of error of 4.4 percentage points.
According to a survey for Channel 10 television, 69 percent of respondents are not satisfied with Netanyahu's response to the violence. The poll of 506 people had a margin of error of 4.3 percentage points.
Before it's here, it's on the Bloomberg Terminal.
LEARN MORE