China's 'Golden Week' Sales Shows Consumer Spending Strength
Bloomberg News
Restaurant, retail spending equivalent to Kuwait's annual GDP

Japan was top pick among the 4 million who traveled overseas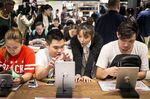 China's restaurant, cinema and travel sales surged in the 'Golden Week' national holiday, an indication that robust household spending remains a prop for a slowing economy.
The Oct. 1 to 7 holiday to celebrate the Communist Party's founding of the People's Republic in 1949 came this year after a period of historic volatility in China's financial markets that rattled global confidence in the world's second-biggest economy. While economists fretted, China's workers splurged.
Great Beep Forward

More than 750 million trips were taken in the seven days according to the official Xinhua News Agency's website, citing estimates from various government ministries.
Traffic gridlock and a cacophony of car horns marked the period as 639 million of the trips were on the road, according to the Ministry of Transport.
In Beijing, which received 11.5 million tourists during the week, more than 400 portable toilets were installed in Tiananmen Square. In the city of Xiamen on the southeast coast, boat tickets for a ride to a nearby island that usually cost 8 yuan ($1.3) were fetching 250 yuan on the black market after selling out.
More than 4 million tourists traveled abroad in the period, according to estimates gathered by Xinhua. Japan, South Korea and Thailand were the top three destinations, according to a report from online travel company Tuniu Corp.
Great Mall of China
Sales at restaurants and retailers amounted to 1.082 trillion yuan -- that's about equivalent to Kuwait's total economic output in the whole of 2014 -- during the seven days, according to the Ministry of Commerce. That was an 11 percent jump from a year earlier.

About 70,000 couples in Jiangsu province (just one of China's 31 regions) got married during the week, a favorite time to tie the knot in China because family and friends are off work and can travel to ceremonies. And 2 billion yuan was spent on the banquets. In neighboring Shandong province, newlyweds snapped up televisions and fridges for their new apartments, with major home appliance retailers registering a 53 percent sales surge from 2014, according to the commerce ministry.
Blockbusters Bloom
The week's box office take exceeded 1.85 billion yuan, a 70 percent jump from a year earlier. And in contrast with past cinematic surges spurred by the release of new Fast and Furious or Transformers installments, the top three performers in China's national holidays were, rather aptly, all home grown.

The low-budget comedy Goodbye Mr. Loser about a poor, clumsy and depressed middle-aged man who magically travels back to his high-school years took in 593 million yuan. Second was Lost in Hong Kong, featuring mainlanders' nostalgia for 20th century Hong Kong popular culture. 
Worryingly for the former British colony, that infatuation with Hong Kong may be fading: growth in mainland arrivals slowed and early data from a retailers' association suggests sales struggled in the week.
But for the nation as a whole, Golden Week spending provides further evidence that the transition to a more consumer-led economy is holding up.
— With assistance by Xiaoqing Pi
Before it's here, it's on the Bloomberg Terminal.
LEARN MORE