BOE's New Official Faces Grilling on Hedge-Fund Links, Rate View
by
Gertjan Vlieghe will appear before U.K. lawmakers on Tuesday

Questions will probably center on Brevan Howard role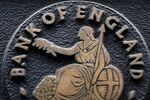 Gertjan Vlieghe, a former hedge-fund economist and the Bank of England's newest rate setter, this week has a chance to defend his independence and outline his policy view.
Just days after the Monetary Policy Committee said weak inflation gives them room to keep interest rates at a record low, Vlieghe's appearance before lawmakers at 10 a.m. on Tuesday will be closely watched for clues as to how he might vote in future. Still, questions about his previous job at Brevan Howard Asset Management threaten to overshadow his opinions on the economic outlook.

"Unfortunately the conflict of interest thing may dominate," said Alan Clarke, an economist at Scotiabank in London. "It's probably right that happens because financial markets have not had a great reputation recently. Sadly, I think, that will overshadow what is an otherwise great appointment."
Andrew Tyrie, who chairs Parliament's Treasury Committee and will lead Tuesday's questioning, said in July he'll press Vlieghe for reassurance because it's "essential" for policy makers to be independent. The Monetary Policy Committee's newest recruit initially planned to retain rights to future payouts from Brevan Howard, while withdrawing from any active interest. He eventually severed all ties to avoid impression of a conflict.
Crucial Insight
The testimony comes at a pivotal time for the U.K. economy, as the MPC weighs when to begin removing emergency stimulus and tighten policy. Governor Mark Carney highlighted the "unforgiving" global environment last week and Vlieghe's emphasis on domestic growth versus international risks will be crucial in determining his view.
Recent data suggest the economy is losing momentum after 10 consecutive quarters of expansion, with a report last week showing the slowest services growth in more than two years. Official reports this week will probably confirm a job-market pickup, with data on Wednesday forecast to show spending power surged to a 13-year high in August.
"The way Vlieghe chooses to acknowledge the pickup in pay growth will be interesting," said David Tinsley, an economist at UBS in London. "The reason to be hawkish is mainly down to the labor market in the U.K. -- most other things would make you at least speak to caution."
Vlieghe, who replaced David Miles on the MPC last month, worked at the central bank from 1998 to 2005, including as an adviser to then-Governor Mervyn King. He was a bond strategist at Deutsche Bank AG from 2005 to 2007 and bolsters the MPC's expertise in financial markets. Vlieghe, 44, has British and Belgian citizenship and received his PhD in economics from the London School of Economics.
'Early Mover'
"It's in his DNA, as it would be from someone from an investment bank, to be early to recognize a new trend, to see that there's a turning point, and that's exactly what the MPC needs," Scotiabank's Clarke said. "What you'll get is someone that's reactive -- not necessarily hawkish or dovish, but someone that's an early mover."
Ian McCafferty -- who was alone on the nine-member MPC in voting for a 25 basis point rate increase in October -- will also face questions from lawmakers on Tuesday. Officials voted 8-1 to leave the benchmark rate at 0.5 percent this month, with minutes of that gathering showing differences existed over the balance of risks to inflation in the medium term. Both men's testimony may give insight before the BOE publishes new forecasts next month.
"We've had a number of MPC members hinting that a rate rise could come soon," said Philip Shaw, an economist at Investec. "Where Dr. Vlieghe actually stands on various issues could give us some clue as to the chain of events, or a possible chain of events, in terms of monetary policy next year."
Before it's here, it's on the Bloomberg Terminal.
LEARN MORE