Bill de Blasio Group to Hold Presidential Forum in Iowa in December
The mayor of New York will attend the Dec. 6 forum, but will not act as its host.
By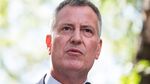 The presidential forum on income inequality created by Mayor Bill de Blasio will be held on the University of Iowa's Iowa City campus Dec. 6, according to the group organizing the event. 
De Blasio will attend the conference but will not act as its host. The first Democrat to run City Hall in two decades first discussed his intention to vet the 2016 presidential aspirants when he invited liberal activists and elected officials to Gracie Mansion, the mayoral residence, this spring.
Democratic and Republican candidates will be notified this week, and invitations will go out after Nov. 1 to the top five candidates in each party who are leading in the polls as of that date, said Rebecca Katz, a spokeswoman for the Progressive Agenda Committee, which de Blasio set up after founding the group this spring.
The event will be held ahead of the Feb. 1 Iowa caucuses, in which delegates from each party meet and vote upon their choices for president in the first delegate selection process for the Democratic and Republican nominating conventions later next year.
"Income inequality is not a partisan issue," the group said in a news release sent by Geri Prado, its executive director. She said the event would be an "opportunity for candidates to have the stage to themselves, and discuss their solutions for tackling income inequality."
Candidates of each party have backed issues such raising the minimum wage, expanding paid sick leave, providing universal pre-kindergarten, changing Social Security laws, and eliminating tax loopholes that benefit the wealthy, she said.
Since announcing his intention to organize the forum in April, an Aug. 5 Quinnipiac University poll showed the mayor's approval rating at a low of 44 percent, and in May a similar survey found that 46 percent said his travels outside New York were distracting him from his job.
(Correction: An earlier version of this article incorrectly stated the date of the Iowa caucuses and incorrectly gave Ms. Katz's first name.)