Bad Economic News Has Been Good for Precious-Metals Investors
by
Net-long positions jump to highest since June as prices rally

Precious metals exit `summer doldrums' amid sentiment shift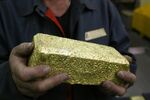 Bad news on the global economy has been good for precious metals.
Money managers increased their net-long position in gold, silver, platinum and palladium for a third straight week. That helped fuel rallies amid signs of a flagging U.S. labor market, a drop in German factory orders and a forecast by the International Monetary Fund for slower global expansion.
The price gains last week pared losses for 2015 on mounting expectations that sluggish growth will force the Federal Reserve to delay raising interest rates, which can curb the appeal of assets that don't pay interest. More than $8 billion was wiped from the value of exchange-traded funds backed by precious metals this year through September. As recently as this month, prices were at six-year lows, partly because the Fed was indicating higher borrowing costs were imminent. Now, more investors expect the central bank to push the increase back into next year.
"We've recovered from the summer doldrums," said Dan Denbow, a portfolio manager at the $600 million USAA Precious Metals & Minerals Fund in San Antonio. "We've seen a few catalysts here to wake up people to say, maybe it's not dead after all, and it was just taking a break. We're probably moving from the worst sentiment in gold in several years to it having some life."
Precious Metals
Gold futures for December delivery jumped 1.7 percent last week, and on Monday rose 0.7 percent to settle at $1,164.50 an ounce. Silver climbed 3.6 percent last week, capping the first consecutive increase since August. Platinum surged 7.9 percent, the most since October 2011, while palladium added 1.5 percent for a fifth straight weekly gain. The Bloomberg Commodity Index rose 3.5 percent, and the MSCI All-Country World Index of equities added 4.4 percent. The Bloomberg Dollar Spot Index fell 1.4 percent.
Combined net-long positions in gold, silver, platinum and palladium increased 38 percent to 95,104 futures and options contracts in the week ended Oct. 6, according to U.S. Commodity Futures Trading Commission data released three days later. Bullish wagers in silver climbed the most since May, while short holdings in palladium dropped 32 percent, the biggest decline since December.

Before last month's jobs report, investors were largely ignoring precious metals. The 60-day volatility in silver fell to a nine-month low in August, before rebounding last week to the highest since May. Gold, platinum and palladium volatility also rebounded from multi-month lows.
Signs of slowing global growth prompted the Fed, after a meeting of policy makers Sept. 16-17, to leave interest rates near zero, where they have been since 2008 in a bid to revive growth. A report on Oct. 2 showed U.S. wages in September stagnated and payrolls trailed economists estimates, while gauges of manufacturing strength wavered through America, Germany and China.
Minutes from the Fed's September meeting released Thursday showed policy makers highlighting risks from the slowdown in China and its potential spillover to other economies, which "were likely to depress U.S. net exports."
Further bad news may justify the Fed keeping the near-zero rate policy for "much longer, well into 2016 or potentially even beyond," Jan Hatzius, chief economist at Goldman Sachs Group Inc., wrote in a note to clients.
Economists said rates will eventually rise, whether this year or next. That prospect probably will keep a lid on rallies in gold and other precious metals, according to Martin Leclerc, the founder and chief investment officer of Barrack Yard Advisors LLC, which oversees about $160 million. Fed-fund futures show the odds of a rate increase in March at 62 percent.
"At some point, interest rates have to go up," Leclerc said in a telephone interview. "Something has to happen. Maybe what the market is saying is that if you look out longer term, gold is at a fair price."
Before it's here, it's on the Bloomberg Terminal.
LEARN MORE