AB InBev Said to Mull Higher SABMiller Bid as Deadline Looms
by , , and
Budweiser maker said to discuss offer of about 43 pounds

U.K. brewer said to want a price closer to 45 pounds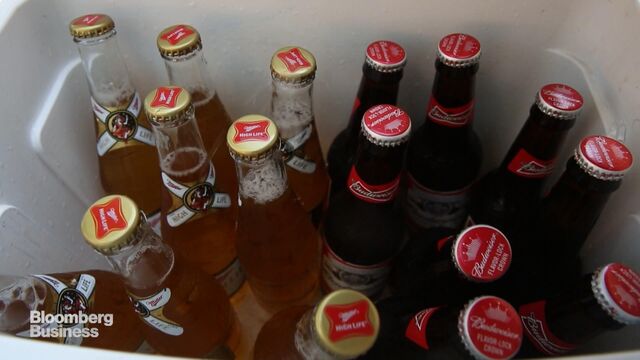 Anheuser-Busch InBev NV has discussed raising its takeover bid for SABMiller Plc to about 43 pounds ($66) a share, a level that leaves the two sides at odds days before a deadline for a formal offer, people familiar with the discussions said.
U.K. brewer SABMiller wants AB InBev to pay closer to 45 pounds a share, said the people, who asked not to be identified as the discussions aren't public. SABMiller hasn't entered formal talks because it views the most-recent proposed bid of 42.15 pounds as too low. The Financial Times reported Monday that AB InBev raised its offer to 43.50 pounds, or 70 billion pounds ($108 billion), citing people familiar with the matter whom it didn't identify. Representatives from both companies declined to comment.
The back-and-forth follows a contentious week for the world's two biggest brewers, who between them control half of the industry's profit pool. SABMiller Chairman Jan du Plessis said Wednesday that AB InBev's proposal "substantially" undervalues the company. AB InBev Chief Executive Officer Carlos Brito countered by saying the board's opposition lacks credibility and shareholders are being offered a price the brewer alone won't achieve anytime soon.
SABMiller rose 0.9 percent to 3,700 pence at 1:58 p.m. in London trading, while AB InBev was little changed at 98.20 euros in Brussels.
Rally Shareholders
AB InBev wants SABMiller's exposure to emerging markets in Latin America and Africa, while SABMiller is trying to maintain its independence, and sought to rally shareholders around its refusal to enter talks by doubling a target of planned cost savings. Under U.K. takeover law, Leuven, Belgium-based AB InBev has until 5 p.m. on Oct. 14 to make a formal offer or it must walk away. If it doesn't bid it can't renew its takeover effort for six months.
SABMiller's investors around the globe are now choosing sides in the industry's biggest-ever deal. Altria Group Inc. -- the biggest shareholder, with a 27 percent stake -- supports AB InBev's current proposal. An investment banker close to Colombia's Santo Domingo family, which controls 14 percent, said SABMiller has better growth prospects than its larger suitor. On Friday, two big institutional shareholders backed SABMiller's rejection.
Before it's here, it's on the Bloomberg Terminal.
LEARN MORE