Chris Christie Says Americans Don't Care Who's House Speaker
By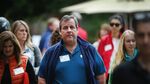 A Google search for "Kevin McCarthy"—the California Republican who was expected to become the next speaker of the U.S. House until his surprising exit from the leadership race Thursday—yields more than 63 million results. Yet Chris Christie, who wants to be the next president, is insisting "nobody cares" who the next House speaker is.
It turns out, New Jersey's Republican governor, who likes to belittle self-important politicians—especially those who live in Washington—has some data on his side.
Just 28 percent of Americans approved of the current House speaker, John Boehner of Ohio, in a September Pew poll, and another 27 percent hardly knew who he was. Approval of Congress itself is also dismal: Also as of September, just 14 percent of Americans approved of the body in a Gallup survey. That's not as low as the all-time floor of 9 percent, which occurred after the solons' approval ratings dropped 10 points during the 2013 government shutdown. On top of all that: few Americans bother to vote for their House and Senate representatives: Only 35.9 percent of eligible voters cast a ballot in the 2014 midterms, a 72-year low, according to the United States Elections Project.
So it's easy to see how Christie could draw the conclusion that there's likely to be little excitement over whether it's Paul Ryan, Tom Price, Tom Cole, or Louie Gohmert who gets the nod to lead a body most Americans appear to despise.
Christie said it's not to say they aren't interested in Congress shaping up.
"What they want is a Congress who is actually going to do something," he said in the same CNN interview where he declared that Americans don't care about the speaker's race.
And some Republicans warn that underestimating Americans' savvy could come at their party's peril.
"Part of the narrative in the 2016 elections" focused on whether "the governing majority actually govern," Yahoo News quotes Representative Steve Womack of Arkansas reminding his colleagues. "And we appear right now not to be governable."
At least one of Christie's White House rivals offers a bleaker assessment.
South Carolina Senator Lindsey Graham, who has also served in the House, said on MSNBC Friday he hopes the next speaker "can reset the House to get things done in 2015 so we don't lose in 2016." At a campaign stop earlier in the week, NBC reported that Graham warned: "If we have a meltdown in the House, and if we can't govern in the House, then it is going to hurt our chances to win in 2016."