business
Turkish Violence Rocks Capital City as Bombing Kills 95
By , , and
`Peace and democracy' attack deadliest in recent history

Explosions come less than 3 weeks before Turkey's repeat vote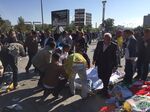 Bomb explosions in Turkey's capital killed at least 95 people on Saturday in the deadliest terror attack in the nation's recent history as fallout from Syria's civil war fuels political and ethnic tensions ahead of elections next month.
The blasts in downtown Ankara targeted a gathering of people, including many Kurds, ahead of a "peace and democracy" march to urge an end to violence between the government and Kurdish militants. While no one claimed responsibility, interim Prime Minister Ahmet Davutoglu said in a televised news conference that militants from Islamic State or the Kurdistan Workers' Party, the PKK, could be behind the bloodshed.

"There are strong signs that the attack has been carried out by two suicide bombers," Davutoglu said. Turkey has captured many would-be suicide bombers in recent days, he said. In addition to the 95 people killed, 246 were wounded and under treatment, including 48 in intensive-care units, the prime minister's office said on its website.
Thousands of people took to the streets in Ankara and other Turkish cities after the attacks. Police used water cannons and pepper spray to disperse protesters armed with firecrackers and stones, according to the Haberturk newspaper. Police detained at least 65 people in Izmir, the paper said.
Saturday's attack follows a July 20 bombing in the town of Suruc that was linked to Syria's civil war and blamed on a suicide bomber with ties to Islamic State. Fighting on Turkey's border is pitting Kurds that Turkey views as terrorists against Islamic radicals. The Suruc bombing killed dozens of activists rallying support for Kobani, a Kurdish border town in Syria.
Allied Advance
The violence in Ankara came as U.S.-allied Kurdish forces who are affiliated with the PKK were preparing to advance toward Islamic State's self-declared capital of Raqqa in Syria, according to Nihat Ali Ozcan, who studies the Kurdish conflict at the Economic Policy Research Foundation in Ankara.
"Daesh struck at the PKK in Ankara before a Kurdish offensive on Raqqa," Ozcan said by phone on Saturday, using an alternative name for Islamic State. "Turkey has become the battleground in a growing war between the PKK and Daesh."
Video images from Saturday's blast showed bodies draped with peace banners and flags of the Peoples' Democratic Party, or HDP, a pro-Kurdish group whose success in elections on June 7 stripped the ruling Justice and Development Party, or AKP, of the majority government it had since 2002.
Violence between Kurdish militants and the state escalated since that vote, which ended in a hung parliament and failed to produce a stable government. The Turkish government has repeatedly accused HDP of links to the PKK, which declared a unilateral cease-fire in Turkey's largely Kurdish southeast on Saturday ahead of repeat parliamentary elections on Nov. 1, according to the pro-Kurdish ANF news agency.
"The cease-fire by the PKK comes at a time as it is shifting its focus from Turkey to its battle against Islamic State in Syria," Ozcan said.
Lira Declines
The increased violence and political uncertainty has battered markets while raising fears that Turkey is being increasingly dragged into the civil war in Syria. Turkey's lira has lost 15 percent of its value against the dollar this year, and yields on government debt are up by almost 300 basis points.
In an interview with ATV on Friday, Davutoglu said any rebel truce was a stunt, and operations against the PKK would continue until the group, classified as a terrorist organization by Turkey, the U.S. and European Union, laid down its weapons.
Since the inconclusive vote on June 7, Davutoglu's ruling party and President Recep Tayyip Erdogan have sought to portray the pro-Kurdish HDP party as an extension of the PKK. Erdogan called a new vote after political parties failed to agree on forming a coalition, and the nation's interim government, still dominated by the ruling party, ordered bombings of PKK positions in Iraq and inside Turkey after the Suruc attack. The strikes have killed more than 2,000 PKK militants, Davutoglu said on Friday.
Russian President Vladimir Putin said on state television that the Ankara blasts were aimed at destabilizing the election campaign in Turkey, and called for efforts to join in the fight against terrorists. Putin met Saturday with his security council in Sochi, site of the Russian Grand Prix auto race, to discuss Syria, terrorism and the attacks, according to the Kremlin website.
Emergency Meeting
Turkey, while a member of the Western coalition fighting Islamic State, has differed with allies including the U.S. on its approach to Kurds in Syria. Turkey views Kurdish groups fighting the Islamic State there as terrorists, while the U.S. sees Syrian Kurds as its most formidable partner in the ground war against the Islamic radicals.
After Saturday's bombing, Davutoglu led an emergency security meeting in Ankara, and said he would cancel campaign events for three days. Erdogan also canceled events planned in Istanbul.
Selahattin Demirtas, co-chairman of HDP, linked the blast to Islamic State attacks on Kurds in Turkey, the Haberturk newspaper reported.
"It's a continuation of the type of attacks in Diyarbakir and Suruc,'' Demirtas told reporters. The Diyarbakir blast he referred to was two days before the election in June and targeted an event where Demirtas was scheduled to speak.
Erdogan, on the other hand, connected the bombing to attacks by the PKK on Turkish security forces.
"The terrorist attack targeting civilian citizens today at the Ankara train station is no different at all from the previous attacks in various locations against our soldiers, our police, our village guards, public servants and innocent citizens," he said in a statement. "I invite everyone to act with responsibility and to take their side against terror, not with it."
— With assistance by Stepan Kravchenko
(Updates death toll, adds clashes with police starting in first paragraph.)
Before it's here, it's on the Bloomberg Terminal.
LEARN MORE