Yes, Those Political Ads Are Following You
An Obama campaign veteran is helping 2016 candidates find voters everywhere they watch.
By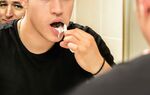 When Scott Tranter, a Washington political strategy adviser, wants to figure out which TV shows Republican voters are watching, he calls Rentrak, a company that uses information pulled from set-top cable and satellite boxes to track viewing habits. Rentrak's data help Tranter determine exactly where candidates can get the most value for their ad dollars. Rather than advising campaigns to spend $3,000 on prime-time broadcast slots in Des Moines, he tells them to buy airtime during reruns of Law & Order on TNT, at a fraction of the cost.