Tormented Establishment Republicans Ponder Their Next Move
As hardliners claim another scalp, Republican Party standard-bearers are struggling to find a way forward in Congress and on the presidential campaign trail.
By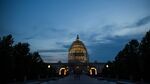 Conservative hardliners have claimed not one but two scalps at the top of the congressional Republican food chain in a matter of weeks. And within the last month, two multi-term governors have dropped out of the Republican presidential race as Donald Trump continues to dominate the polls. The man dozens of House Republicans describe as the only consensus candidate, Representative Paul Ryan, has said he doesn't want the post—although he is reportedly weighing his options this weekend. 
The brutal stretch for establishment Republicans has left them puzzled, beaten down, and—for one congressman—ready to throw a few metaphorical punches. And that is echoing what's happening on the campaign trail.
"There's a great deal of dysfunction going on, obviously, up here. But I think it's also representative of what's going on in the country," said Florida Representative Dennis Ross. "I mean, why is Donald Trump so high up in polls when all he is doing is, quite frankly, dividing people?"
The unrest indicates that the chasm inside the Republican Party has widened in recent years, as angry hardliners punish pragmatists who seek to govern by way of compromise in a divided government. A powerful faction of 30-40 House Republicans—backed by potent forces in conservative media and grassroots—insist on dangerous brinkmanship such as shutdowns and debt default as a means of undoing his policies.
Bloomberg View:
"You have 30 people who think they're a law unto themselves. We have to stop paying attention to them," Representative Peter King of New York, told Bloomberg. "Fight back, don't take it. If you have people breathing down your neck, you just punch them. You get them out of there, say, 'Get away from my neck.'"
Over-promising, Under-delivering
King, a national security hawk who is moderate on domestic issues, has long been critical of the conservative hardliners. Other long-serving Republicans are more despondent than angry, acknowledging that Boehner's successor will face the same reality he did.
"To get any idea of what it feels like, take a couple of ice picks, put them in your nose and turn them around," Florida Representative John Mica told Bloomberg. "It's tough."
Republican leaders aren't blameless in this mess. Part of the problem is that the party won sweeping victories in 2010 and 2014 while campaigning on a conservative platform built for the hard right. They over-promised and under-delivered. Now they're being told by those voters to put up or shut up.
"You get the honor of making a speech before they tar and feather you every day," said California Representative Darrell Issa, summing up the job of Speaker, which he is considering running for. Another Republican eying a run for Speaker, Utah Representative Jason Chaffetz, lacks a clear base of support among pragmatists as well as hardliners.
The insurgent Republicans say it's time for a dramatic change.
"Even Kevin said this today—he said the American people want a fresh face," said Virginia Representative Dave Brat, who defeated House Majority Leader Eric Cantor in a Republican primary last year. "And I don't think it's the face. It's the principle."
Primary Colors
The undercurrents of Republican rage have become so prevalent among the base that billionaire political rookie Donald Trump, who's running on a platform of shattering the status quo, has led the Republican presidential field for months. The New Yorker took a victory lap when McCarthy dropped out. "It's bedlam in Washington right now," he said, "Bedlam. It's a mess. I've never seen anything like it."
As Trump ascended, former Texas Governor Rick Perry and Wisconsin Governor Scott Walker were undone on the presidential campaign trail, dropping out within weeks of each other in September.
Remaining establishment-oriented candidates, seeking to keep pace with grassroots anger, are advancing the argument that Washington Republicans can undo President Barack Obama's policies if they only try harder. New Jersey Governor Chris Christie recently called it a "defeatist attitude" to suggest that Republicans cannot advance their agenda while Obama is president. Jeb Bush, the son and brother of former presidents, said working in Washington is "not part of my DNA." Senator Marco Rubio, confronted by an angry Iowa voter last week, lamented that congressional Republicans sometimes "don't even try" to defeat Obama and assailed them for a "show vote" on defunding Planned Parenthood.
After bowing out, McCarthy offered a grim assessment of the Republican-led House, suggesting that it may be ungovernable, according to National Review. "I don't know," he told the conservative outlet. "Sometimes you have to hit rock bottom."