SABMiller Doubles Cost Savings Target as AB InBev Circles
By and
Brewer meets with investors, pledging $1.05 billion in cuts

Shares erase decline after falling as much as 0.8 percent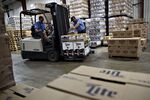 SABMiller Plc doubled the amount of planned cost reductions as it began meetings with shareholders to rally them around its rebuff of Anheuser-Busch InBev NV, the larger rival seeking to buy the U.K. brewer for a record 65.2 billion pounds ($100 billion).
Annual savings in the 12 months through March 2016 should exceed $430 million and reach $1.05 billion by 2020, the brewer said Friday in a statement. The London-based company previously targeted about $500 million in annual savings by 2018.
The onus is on SABMiller to prove it's worth more after saying AB InBev's proposal "substantially undervalues" the maker of Grolsch and Peroni beers. Under U.K. rules, AB InBev has until Oct. 14 to make a formal offer for SABMiller. Altria Group Inc., SABMiller's largest shareholder with a 27 percent stake, has urged the board to begin talks with AB InBev, which on Thursday criticized the target company for its refusal to engage.
Building Defenses
"Clearly it makes a lot of sense as part of SABMiller's bid defense," Trevor Stirling, an analyst at Sanford C. Bernstein, said of expense reductions. "They're saying they can drive out cost savings as well as AB InBev can to reassure shareholders that there's no need to sell."
The new savings will come mostly from procurement and also from making manufacturing and distribution more efficient, the company said. SABMiller said the plan assumes that there is no change of ownership.
SABMiller jumped 1.3 percent to 3,688 pence at 2:05 p.m. in London, erasing a drop of as much as 0.8 percent. Leuven, Belgium-based AB InBev's proposal to pay 4,215 pence a share in cash for a majority of the shares is 44 percent above where SABMiller was trading before speculation of a deal. AB InBev climbed 0.9 percent to 98.39 euros.
"Our recent trading statement highlighted our accelerating growth in the second quarter," Chief Executive Officer Alan Clark said in the statement. "Another key plank of our strategy is to build a globally integrated organization to optimize resource, win in market and reduce costs."
Similar tactics have failed in the past to fend off AB InBev CEO Carlos Brito. In July 2008, when Budweiser maker Anheuser-Busch Cos. sought to block Brito's InBev NV from a hostile takeover, its CEO August Busch IV sought to appeal to shareholders by proposing cutting $1 billion in expenses and becoming more profitable. The brewer, which had been managed by the members of the Anheuser and Busch families since 1852, was acquired by InBev to form Anheuser-Busch InBev in November that year.
Clark said SABMiller has a 38 percent profit margin in its biggest 20 markets, based on earnings before interest, tax, depreciation and amortization. Still, that's short of AB InBev's profitability, the highest among major brewers. The Belgian brewer's Ebitda margin for its total business was 39.4 percent last year. Including all of SABMiller's markets, the brewer's most recent full-year Ebitda margin was 25.4 percent on an adjusted basis, or 29.5 percent unadjusted.