One of Wall Street's Most Popular Post-Crisis Trades May Be Coming to an End
Selling volatility is no longer a safe bet.
By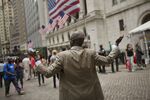 Seven years of ultralow interest rates from the Federal Reserve have encouraged investors to pile into a risky but profitable trade. Long the domain of hedge funds, selling volatility has became a popular strategy for new types of investors seeking to boost their returns in an era of low interest rates.

Now analysts at Société Générale argue that the trade is entering its endgame.

The Chicago Board Option Exchange's VIX index, which measures the implied volatility of the S&P 500, has in recent weeks resembled nothing if not the EKG strip of a person with cardiac arrhythmia. Yet the seemingly random fluttering of the VIX, sometimes referred to as Wall Street's "fear gauge," is actually cyclical in nature, according to Vincent Cassot, SocGen's head of derivatives research.